Baby's First Christmas – Decorating with Hallmark Keepsakes
A new addition to the family made our Christmas even more special this year! My baby's first Christmas was commemorated with Hallmark keepsake ornaments and other special touches to the decor.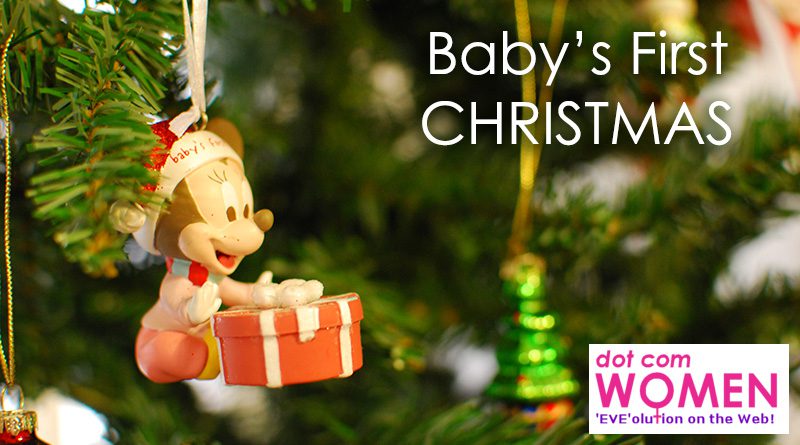 It had to be a Pink Minnie!
I was thrilled to find that the 2015 'Baby's First Christmas' ornament by Hallmark was a Pink Minnie! It is the cutest little ornie perfect for a baby girl's first Christmas. It was my first Christmas purchase this year.
Strawberries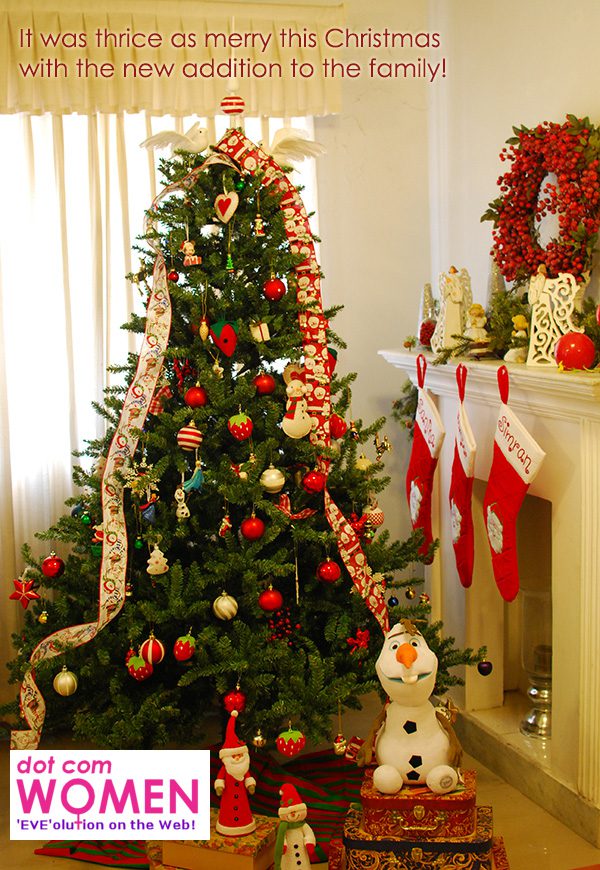 New matching stockings were ordered for all three of my kids. My 10 month old loves Strawberry Shortcake and with her birthday coming up soon, I am already gathering stuff for her birthday. I was, however, not able to find the new Strawberry Shortcake ornament for her and she won't be able to identify the vintage one. So, some plush strawberries found their way to the Christmas tree to celebrate her first favorite cartoon character! You will likely see them in her first birthday decorations too.
Frozen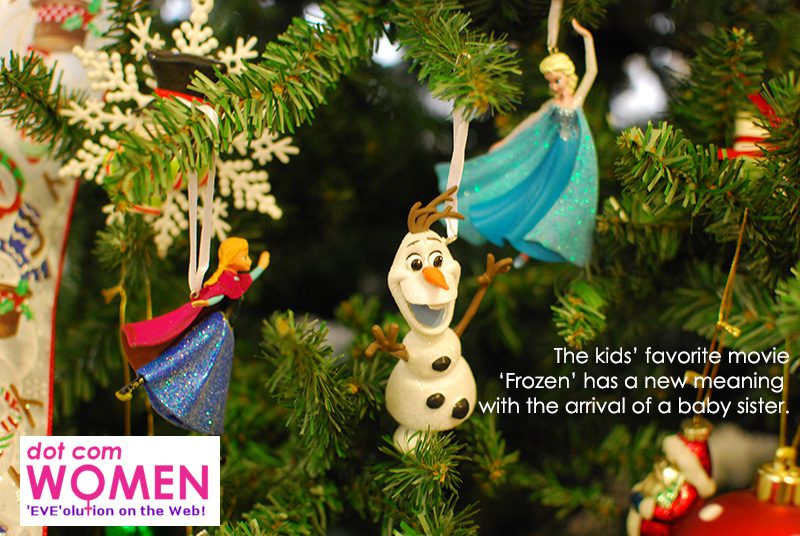 My older kids are big fans of 'Frozen' and daughter's 9th birthday was on the same theme. With my son being the eternal hugger and hence – Olaf – the arrival of a baby sister completed their Frozen trio. My daughter picked up these Frozen ornament set to mark the three of them on the tree.
Vintage Hallmark Ornament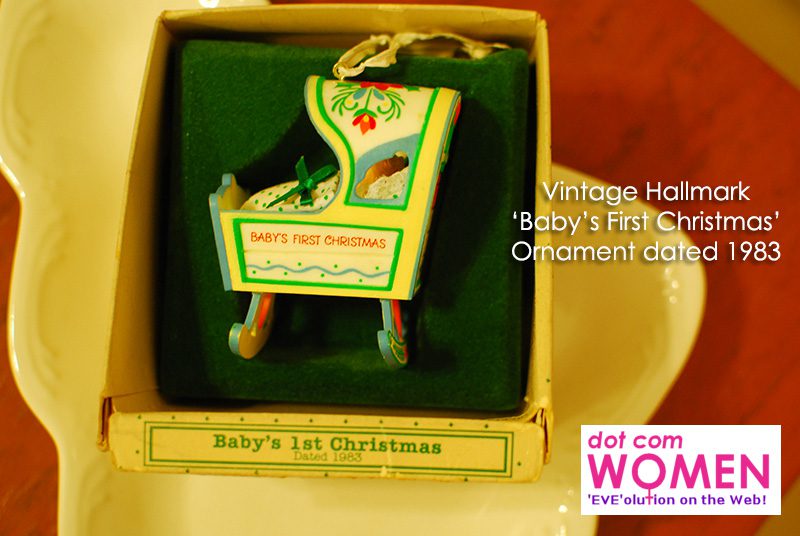 We brought out other special ornaments to decorate the tree. Among them, was this one bought for my son's first Christmas. It is a vintage keepsake ornament dated 1983 – an eBay find.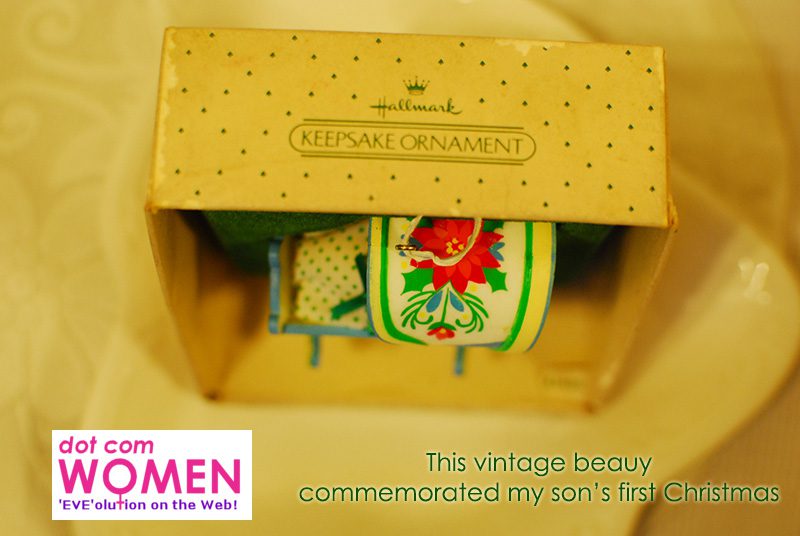 On the back of it is a lovely poem – Baby's First Christmas by Marjorie Francis. Unfortunately, the current ornaments do not have such special packaging. It would have been a very welcome touch.
Angels on the Mantel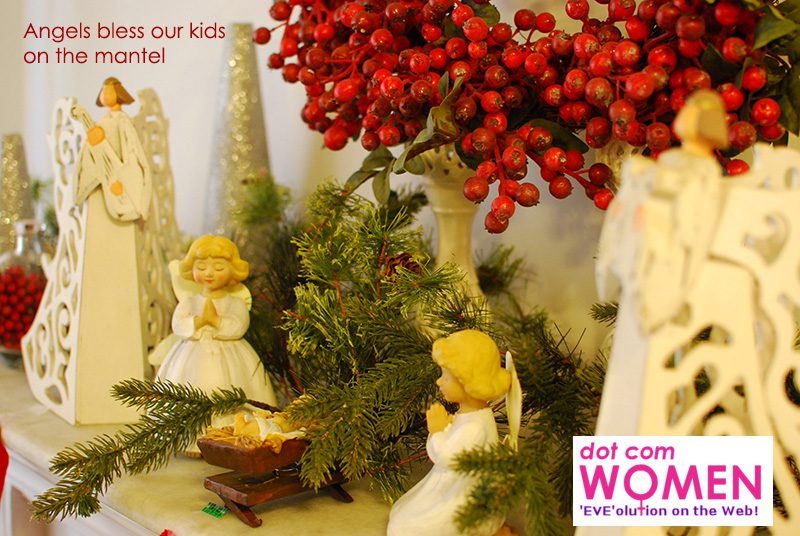 My little nativity scene and laser cut angels decorated the mantel. The sight of baby Jesus in the crib brought to the mind my own little babies (that's what they are to me – all of them!), and I silently prayed:
O Loving God,
bless our family with your love.
Guard us from all danger and harm;
deliver us from anger that leads to division;
empower us to forgive as we have been forgiven;
and send us into the world
to witness to your love and grace.