Celebrity Bingo Endorsements
When it comes to celebrity endorsements they are wildly varied, from food and drinks, to sportswear and holidays. However nothing gets quite the attention that celebrity bingo endorsements do.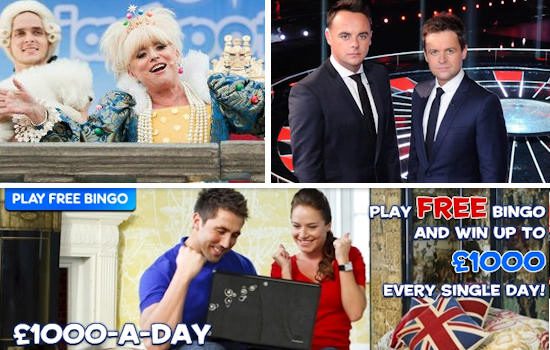 When Barbara Windsor bowed out of Eastenders, we thought we would see her heading to the bright lights of the West End, or into a period drama. However when her advert for JackpotJoy Bingo appeared on the Great British screens, it's fair to say some eyebrows were raised! However her tongue in cheek take on the 'Queen Vic' seemed to work for the brand and it began a run of very successful adverts for them.
Then of course there is the infamous Kerry Katona whose short lived pop star career has been entirely overshadowed by her shocking choice in husbands, drug use and general tabloid worthy behaviour. When she initially fronted Bingos Bingo it was at the cusp of a meltdown for the second time, leading to her stepping back from all public events and endorsements. The Warrington mum of 4 has since become the famous face of Bingo Giving, a charity bingo site.
It's not just the ladies who get a look in, one time rugby super star Gavin Henson become the poster boy for Brits Bingo. There have always been rumblings that although his on pitch performance was impressive he had a less than thrilling personality, and leaves the niceties at the door much of the time. Whilst married to Charlotte Church he made up one half of the most glamorous couple in the UK. Since they have split however he has gone on to search for love on 'The Bachelor', sadly his less than gentlemanly behaviour raised its ugly head once more when the lady in question that won his affections was unceremoniously dumped on St Valentine's Day.
One of the most recent faces of Gala Bingo was the 1990's Greek god that is Peter Andre;who may or may not have caught the bingo endorsement bug from his now ex-wife Katie Price, who as Jordan hooked up with Foxy Bingo.
The newest chaps on the block though are the Geordie power house that is Ant & Dec, their hugely successful Saturday Night Takeaway game is now on www.galabingo.com – with fun and interactive games to play and fun prizes to win!
It's not only sometime pop stars and soap stars who are fronting these campaigns but also the likes of TV greats like Paul Daniels and Debbie Magee who are surely using the collaboration to re-invent themselves and rejuvenate a flagging career.