Decorate an Outdoor Holiday Tree for Animals
Christmas decorating can be a lot of fun! Oodles of lights, family heirloom ornaments, the treasured homemade decorations made by the kids, and of course the annual Christmas tree are all part of traditional holiday decor. This year, add a new tradition to your Christmas decorating projects and deck out an outdoor holiday tree with yummy treats for your local wildlife!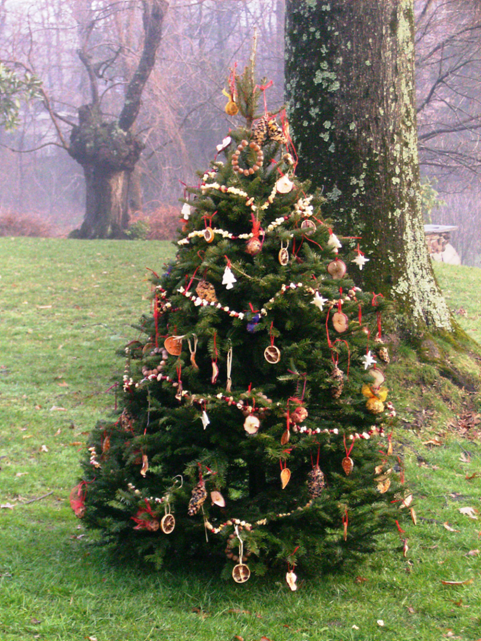 The Basics
Make sure that everything you use to decorate your animal-friendly outdoor tree can be eaten and digested easily, without causing a choking hazard. Never use fishing line, wire or plastic hooks, pins, or paper clips to hang your decorations. Natural fiber string may be used to create garlands.
Also, ensure the foods you choose aren't loaded with sugar, preservatives, or other artificial ingredients. If you're in doubt about any ingredient, check with a veterinarian or other animal specialist to find out if that item is safe for animals to eat. Avoid glitter, spray adhesive, or any type of glue.
Garlands
Garlands are easy to make and especially fun for kids to string together. Make several different types to add color and variety to your decorated tree. Try stringing garlands made from plain Cheerios, air-popped popcorn (without salt, butter, or other flavorings), fresh berries, or small twisted pretzels. You can also string peanuts in their shells, with a bit of strong thread and a good sewing needle. Just push the threaded needle through the tops of the peanut shells and string them along. Try making garlands with several different materials, such as popcorn and nuts, or Cheerios and cranberries.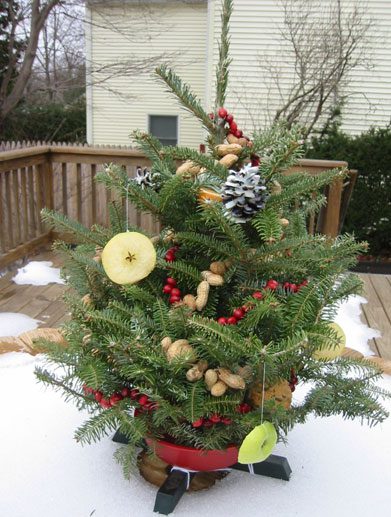 Ornaments
Now that you have your edible garland, it's time to create some fun ornaments to enhance the look of your tree. Whole or sliced fruit is always a great choice, and the perfect way to add color to the tree. Try fresh or dried apple rings, small plums, grapes, or tangerines. You can place them on the branches of the tree, or string them with a bit of thread to hang.
Pinecones can be smeared with natural peanut butter (the kind with only peanuts on the list of ingredients) and placed on the tree. Try rolling the covered pinecones in bird seed too. Small ice cream cones can be filled with seeds, nuts, fresh or dried fruit, or even suet and hung from the tree.
You can also make shaped ornaments with cookie cutters, using whole wheat bread or tortillas. After cutting the shapes, cut a small hole in the top of the ornament for hanging, and set them aside to dry out a bit before placing on the tree.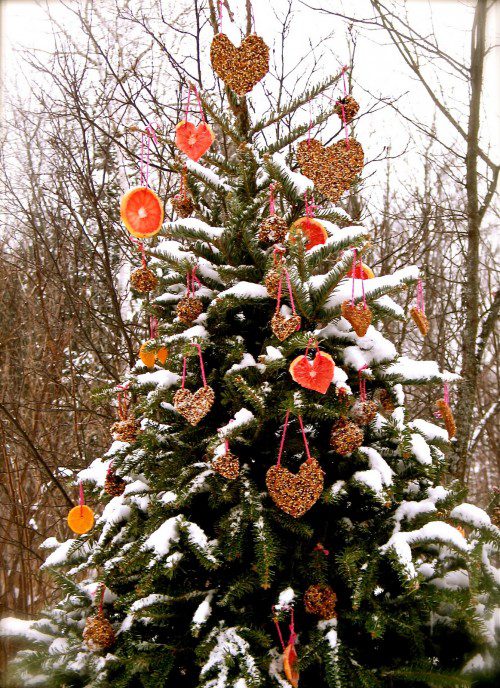 Finishing Touches
Top the decorated Christmas tree with a bell made of bird seed, available at most pet stores. Instead of a tree skirt, sprinkle bird seed or whole oatmeal (not the quick-cooking, instant, or flavored varieties) around the base of the tree.
Alternative Locations
If you don't have a tree on your property or live in an apartment, you can still create a terrific outdoor display for the animals to enjoy. Try stringing any or all of the garlands around a hearty shrub, or even along the railings of your front porch or balcony. Take a walk out to a park or other outdoor public area and decorate a tree there. Or make the project even more involved and get your kids to design and create a small "tree" out of cardboard to stand up outside your home.
Getting your children involved in a project like this one not only helps to usher in the holiday season, but gives them a sense of the spirit of giving that Christmas is all about. They'll get a real kick out of watching the local birds and animals from the window, enjoying the treats on the tree!