Quilled Fall Leaf Place cards: Fall/Thanksgiving Craft
Easy quilled shapes come together to form the most recognizable motifs of the fall season and add a creative touch to your Thanksgiving or Fall dinner table.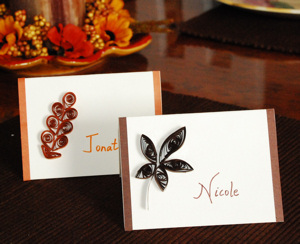 Materials needed:
1. Quilling strips – rust and brown 2. Quilling tool 3. Card Stock in cream color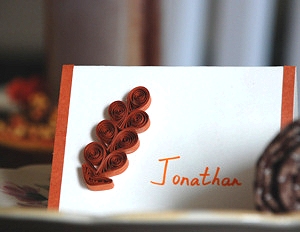 Directions:
1. Form the leaves as directed in the 2nd step and glue them to the place cards made out of card stock.
2. For the Maple Leaf:
Quill five leaf shapes – 1 larger than the rest, 2 medium sized and 2 smaller sized. Glue them together using the picture above as a guide and add a small strip un-quilled for the stem.
For the Oak Leaf:
Quill seven teardrop shapes and glue them together using the picture to your right as a guide. Pinch a quilled oval shape from the center of its top edge and glue at the base of the leaf.
3. Use the strips of the same colors to make an edging of the place cards.