Highly Sprung – DIY Wire Christmas Ornaments
Homemade wire Christmas ornaments can be very simple to make if you have a little knowledge of wire jewelry crafting. Brighten up your Christmas tree with these pretty decorations based on silver spirals and jewel-like colours.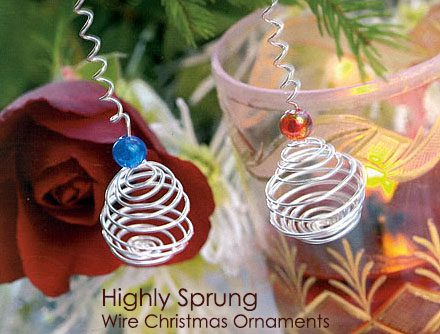 You will need:
Jewellery wire, silver plated 0.8mm
Pearlised beads, 8mm
Bead, 8mm (with large enough hole to thread three lengths of wire through)
Faceted beads, 4mm
Wide ribbon, 3mm
Rattail, satin
Wooden skewer
Jewellery pliers
How to:
Cut a 60cm (23 3/4″) length of wire. Hold the very tip between your pliers and wrap it once around the end. Using the pliers and your fingertips carefully shape it into a loose spiral for a further five turns. Now spiral the wire for five turns in ever decreasing circles to form a spiral cage.
Thread an 8mm bead onto the wire at the top of the cage. Wind the remaining wire along the length of the wooden skewer, and pull the skewer out to leave a long spiral. Bend the end of the wire over in a small loop. Thread a 16cm (6.1/4″) length of rattail through the loop and tie the ends together.
Just like these pretty wire Christmas ornaments, we also came up with more creative uses for jewelry wire.
by Lianne South
References:
Jewelry wire gauge – Wikipedia, the free encyclopedia
Wonderful Wire Jewelry Projects – Jewelry Making – About.com