4th of July Crafts – Patriotic Painted Pot or Candy Jar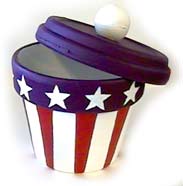 If you leave out the lid, you could also plant flowers in this pot, otherwise it makes a great candy dish for your 4th party!
Materials
small clay pot and saucer
1-inch wooden ball
red, white and blue acrylic paint
paint brushes
masking tape
sand paper
glue gun
glossy spray varnish
Directions
Paint entire saucer blue. Paint outside of the pot's rim blue. Paint remainder of the pot white. Allow to dry. Apply a second coat of blue and white paint to pot and saucer. Apply strips of masking tape evenly spaced vertically from rim to base of pot. Paint stripes with two coats of red paint. Allow to dry and carefully remove tape.
Create a star on thin cardboard to use as a pattern. Trace star outlines evenly spaced around rim of pot. Paint stars white.
Sand wooden ball in one spot to make a flat area. Paint ball white. Glue flat area to center bottom of saucer with glue gun. This creates the lid. Spray pot and lid with varnish.
Amanda Formaro is the entrepreneurial mother of four children. She is also the owner of FamilyCorner.com Magazine athttp://familycorner.com Subscribe to her free kid's craft newsletter, Busy Little Hands, by sending any email message tomailto:kidscrafts-on@mail-list.com