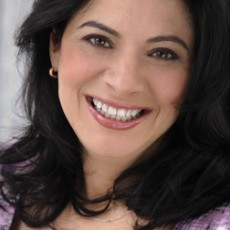 Picking up inspiration from natural objects like twigs, branches and seeds and using eco-friendly and recycled precious metals for her one-of-a-kind handmade jewelry made in New York City, Barbara Polinsky personifies everything that Dot Com Women stands for.
Finding Beauty in Imperfection is what Barbara does and it is also what this wonderful opportunity of being able to interview her has enriched me with. After conducting several interviews with successful women and trying to figure out the million dollar issue of being able to 'perfectly' juggle all that goes with being a woman, I met Barbara. Her vision of 'Beauty in Imperfection' does not leave her for even a moment and she simply points out that the imperfections of being a woman are as lovely.
So, bid adieu to all your guilt feelings about parenting, homemaking, cleaning the kitchen, cooking frozen meals and instead, think about times when you brought smiles to all those you cared for. And now that you are feeling good about yourself, just sit back, relax and read more about the woman who led you to that feeling and who is also one of the most sought after and path-breaking jewelry designers of modern times who is giving back a lot to the world she grew up in, in more than one ways.
Let us start with some background info about you, Barbara. What was your life like before you got into designing Jewelry?
Believe it or not, I spent 15 years in the graphic arts industry marketing commercial printing paper before starting my own business. When I look back at it, I'm stunned by absurd accuracy of the writers for The Office's Dunder Mifflin Company, although it didn't seem so funny at the time. It was a very macho culture but I did pick up lots of valuable sales experience.
UP, CLOSE & PERSONAL
What I'm reading now:
Hypocrite in a poufy White Dress by Susan Jane Gilman. Parts of it are hysterical.Guilty Pleasures:
Bravo Network and Tate's Chocolate Chip Cookies
Best Thing that Happened to You:
Marrying my husband and having our two children.
How did Jewelry Designing come about? Did you receive any special training for it?
It was a hobby that very gradually turned into a business. When my children where young and I was working full time I escaped the insanity of life by taking one class a semester for about 10 years. Friends were encouraging by commissioning me to make things for them and asking to buy jewelry I was wearing. But I often felt uneasy charging them or establishing a value for my work. After selling paper for all those years, it just didn't make sense that I could get paid for doing something fun. At about this time I stumbled upon Etsy and decided to open a shop and see what happened and that when things started to cook.
Was your jewelry boutique an instant success? Or is there a struggle we do not know about?
I don't believe that anything is an instant success. In fact, thinking that some people experience overnight success and others aren't so lucky is harmful and disheartening. We all struggle with some things and other things aren't as hard. I believe that success in business means you are skilled at being able to recover from a mistake, learn from it and not do the same thing again. The more slips you make, the better you get at predicting outcomes and I continue to learn new things every day.
You have chosen to do business online mainly. Did online sales and promotion pose a challenge?
Not at all. There are limitations and benefits in any sales vehicle so the key is to be adaptive and to have realistic expectations.
Tell us more about your work. What goes into it? Which materials do you like to work with?
Like a chef who wants to work with fresh ingredients for the best flavor, I like working with the finest ingredients because the end result is most predictable and beautiful. I work in reclaimed 18K and sterling and with Natural gemstones.
Fine Jewelry has always been synonymous with 'Perfection'. How did you hit upon the concept of designing Jewelry with the concept 'Beauty in Imperfection'? How was the response?
This is the grouping that is dearest to me and those who get the concept relate to it immediately. Those who don't, well, maybe they'll be able to relate in a few years, or they won't. Beauty in Imperfection is inspired by the idea of imperfection – in nature, in people and in life, It defines acceptance. A jeweler's file markings, little bumps, seams showing – what might be considered inconceivable flaws to any other jewelry collection is this groupings hallmark. The imperfections are what give the jewelry depth and character. – no two are alike. Just like us. It can be interpreted in so many different ways and levels. What does Beauty in Imperfection mean to you?
More and more couples are turning to 'Green' weddings. How is your jewelry 'Eco Friendly'?
My ultimate goal is to do good and leave as small a footprint as possible. Responsible sourcing is one of my priorities. I exclusively use recycled precious metals and try my hardest to source natural gems prized for their integrity as well as their beauty.
Which is your favorite piece of jewelry from your own designs?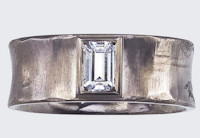 It changes often! Lately it's been this ring with a diamond eternity band next to it. I love the elegant simplicity and whit diamond. One of the perks of owning a jewelry company is getting to try samples of the new styles…. Just to make sure they're comfortable of course.
Which part of your work do you enjoy most?
I love almost everything – collaborating with customers and vendors, sourcing, creating a business/marketing plan and especially new product development. The accounting stuff, not so much.
You also design for the New York Botanical Garden. Please tell us more about that collection and your experience with them.
I design and oversee the production for private label jewelry collections, which are sold by my clients under their name. Some, like NYBG have my name on it as well. Working with The New York Botanical Garden is an honor and also extremely enjoyable. I love being able to give back and knowing that my skills created a revenue stream for this wonderful not-for-profit organization. The collection is designed from branches, pods and seeds found on their property and manufactured in NYC from recycled silver and gemstones. The branch Cufflinks and Fringe Tree styles are especially popular. Here's a link to the shop where you can learn more http://www.nybgshop.org/home.php?cat=593
What would be your advise to other women who wish to design Jewelry for a living? Does it require a large investment and/or extensive formal training?
It depends, the higher your skill level, the less competition and the more flexibility you have. The market is saturated with beaders but if you can offer something different or a come at it from a new angle then you have an advantage.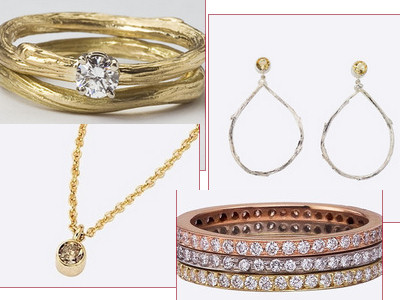 A Sampling of Barbara's eco-friendly designs Shop Online at http://www.bmjnyc.com
You have named your business after your children Michelle and Jacob. Tell us about them. Were they and the rest of your family instrumental in your success?
Michelle is a freshman in college and Jake (Jacob) a freshman in High School. They and my husband Alan, who also has his own business, have been extremely supportive and encouraging. Michelle and Jake also have pretty good metalsmithing skills.
The one question that every woman reading this and who aims to own a business some day, is thinking of – How do you manage your family, personal and professional life? How do you strike the perfect balance between them?
There's that perfect word again (LOL) Banish that perfect yardstick because it's not possible to juggle all these important things and achieve balance and excellence. However, It is possible to prioritize and set reasonable business goals that work within the complexities of our lives at present and will point us towards our destination when demands let up. Another example of finding the Beauty in Imperfection.
What do you like to do when you are not working?
I try to relax but as you may have guessed, it's something I need to work at