Wedding Flowers 101: 6 Tips from the Experts
You've been planning the big day for months, and you're approaching the final weeks until you make it official and say your "I do's." With the big day right around the corner, now is the time to make sure you've got everything you need including your wedding day florals. Here are six expert floral tips from wedding day professionals: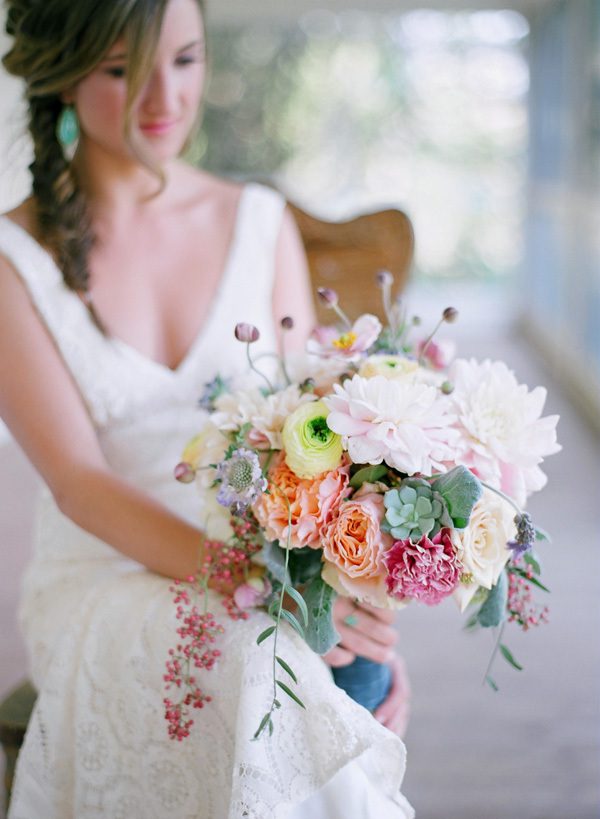 Big Budget or Small
First, consider your finances. Weddings can get expensive, and many brides opt to save a bit when it comes to the flowers. Brides Magazine put together a running tally of the cost of each and every stem, totaling upward of $5,000. If you're not willing to sacrifice the wedding day blooms on your big day, the professionals at Bridal Guide recommend using in-season, or locally grown flowers, adding greenery to keep the price low, and using large blooms, as you'll need fewer of them than smaller varieties to make a full bouquet or centerpiece.
To DIY or Not To DIY
A Practical Wedding, an online source for all-things wedding related and budget friendly, tells the story of how Meg, the resident Editor-In-Chief, put together all of her own wedding arrangements, which included 70 pieces. She was the first to say that the undertaking wasn't exactly easy and isn't for brides who have other big wedding day projects. Meg recommends choosing to do your bouquet and nothing else or she suggests doing as she did, by taking on the bouquets and everything else, too. Meg's advice: Do a test run, use floral foam, pick a few helpers and don't wait until your wedding day to start your flowers, you'll need put them together in advance.
Bouquet Meets Dress
First comes the dress, then comes the flowers. Emma Lappin of Emma Lappin Flowers says the bouquet is dependent on the shape, details and style of the dress. Once you've selected your gown, only then should you be thinking about color, size and which blooms to use in your bouquet and arrangements. She recommends bringing swatches of your dress and bridesmaids gowns to the florist to ensure the perfect color pairing. Lappin also warns to select a bouquet that doesn't distract from you or the dress.
Look to Online Vendors
Partnering with a florist could lead to major headaches. Often touted as "creative geniuses," the best florists seem to have the biggest egos. However, not all floral providers want to take over your wedding. Take back control and choose an online vendor such as FTD for your wedding flowers. From boutonnieres to large arrangements, the online flower delivery service can cover your wedding, and you'll be the only one making the important decisions —  like roses or peonies, for example.
From Ceremony to Reception — Will You Reuse?
When it comes to weddings, nobody knows more than the experts at The Knot. And wedding day florals are no exception. Paula Pritchard of Paisley Petals told Justine Lorelle Blanchard of The Knot to consider using aisle flowers as centerpieces. She said "It's a shame to see so many flowers only being used for that amount of time." Repurposing can save some stems and some green, as well.
A Cool Wedding Day Tip
The wedding day professionals at Wedding Lovely strongly suggest keeping your florals in a cold environment on the big day. The experts recommend having your florist store the flowers in a cool basement or refrigerator until the very last minute. If you are unable store them in a cool place, crank up the AC. Not only will the flowers stay fresh but you and your guests will stay cool, too.