A Tropical Island Theme Summer Wedding
A summer wedding can be a memorable and beautiful occasion. Choosing a theme for your summer wedding can make the planning and preparation go more smoothly and make your special day something everyone will remember for many years to come. Read on to learn more about planning a tropical island theme wedding — perfect for any summer ceremony!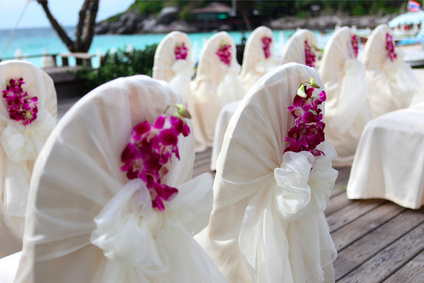 Location
Outdoors, of course! The beach is an ideal location for a tropical island wedding, but even a grassy park or backyard can work.
Invitations
You may want to select invitations that feature something island related on them, like seashells, palm trees or even orchids. When sending out your invitations, be sure to specify that the wedding is a theme one. You might even ask your guests to dress in tropical island apparel like Hawaiian shirts, sundresses and sandals. Always request an RSVP so that you'll know how many guests to plan for.
Apparel
The tropical island theme lends itself to light, breezy apparel that is more casual than the traditional ceremony. While brides can wear a traditional wedding gown, this theme also works well with dresses that are light in fabric, slim-fitting, and even short in length if that's what you prefer. The groom can forgo a traditional tuxedo in favor of a more casual suit in a lighter fabric. Good colors for the groom's suit include light shades like beige, pale blue, and even white.
The Bridal Bouquet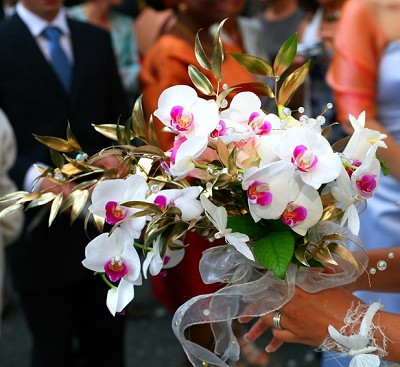 The bridal bouquet can also be made using tropical flowers. Orchids are an easy and stylish option for a gorgeous wedding bouquet and looks exotic in pictures and in person.
Decorations
One of the most fun things about the island theme wedding are the decorations. Think bright, beautiful, tropical colors like bright pink, orange, turquoise or sunny yellow accented with green. Flowers should include exotic tropical choices like hibiscus, bamboo orchid, plumeria, bamboo orchid and red ginger, for example. The more flowers, the better! While the flowers should be the main decorations, brightly colored balloons and streamers can add some festive flair. Try adorning tables with battery powered tabletop fountains for the added allure of trickling water. Also see our beautiful centerpiece idea for a Tropical Fruit Tower Centerpiece.
Menu
For your tropical island theme wedding menu, go for exotic flavors and favorites from islands like Hawaii and the Bahamas. Roasted pork, spicy grilled shrimp, fresh fish, pineapple, mango and papaya are all flavors to incorporate into your menu. For your wedding cake, try a pineapple flavored cake topped with edible tropical blossoms. One fun alternative to the wedding cake is the cupcake tower, which resembles a wedding cake except it is crafted from individual cupcakes. Try topping each cupcake with either an edible tropical bloom or one made from colorful frosting.
Favors
Hand out leis to your guests to wear as they arrive. If you've never been to Hawaii, the lei is simply a garland of tropical blossoms that is worn around the neck. This keeps with the abundance of tropical flowers and reinforces the island theme. Other fun favors include miniature bottles of blowing bubbles or candles embedded with seashells, wrapped in brightly colored tulle. Disposable cameras are also ideal favors for any type of wedding, because they allow each guest to capture their own memories of your special day.