Don't Let The Drama Ruin Your Wedding!
An Important Occasion
There is little in life that is more important than a wedding. This is the coming together of two families; two "houses" becoming united in an alliance. It's a community statement showing the commitment of two individuals to start a new life together. It's also the basis from which new life will eventually spring.
Marriage isn't to be entered into lightly. The act itself will prove to be one which can be an emotional roller coaster. But the emotions of those who are tangentially involved in the occasion can also end up being a wrench thrown in the works. From parents to bridesmaids and groomsmen, the potentiality for drama is at an all time high during a marriage ceremony.
One of the best ways to offset this dramatic potential is to plan in advance so that the problems of the day are all you have to deal with; not a bunch of existing difficulties that have been percolating in the background.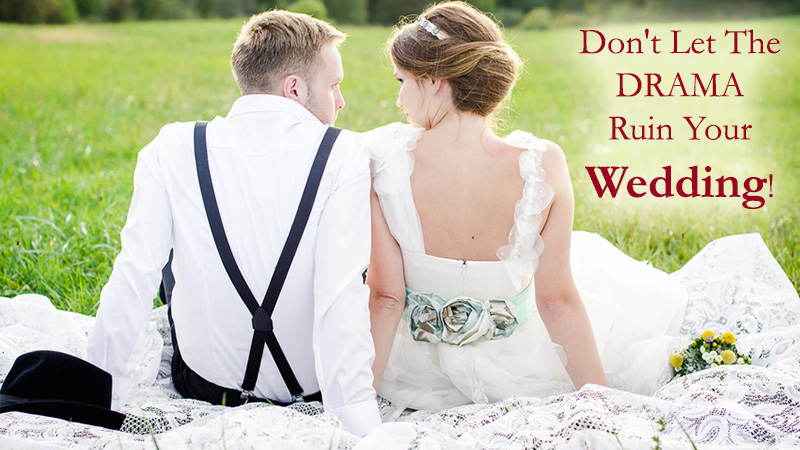 Book Your Vendors In Advance
It's astonishing how many weddings will take place with a slap-dash approach to vendors involved. DJs will be booked last minute, venues will see the same phenomenon. Often photographers and videographers aren't consulted until it's almost too late, and the drama which comes from bridesmaids can be downright hideous. If you are planning a destination wedding, look for multicultural advertising in your native tongue to make sure you understand deadlines for proper booking.
You can circumvent these difficulties by making a list of the vendors and services you'll need for your wedding, and getting each one taken care of as far in advance as possible. You'll want the venue figured out first of all, then you're going to want to look into things like wedding DJs, photographers, and videographers — all the good ones will have bookings months in advance.
When you go shopping for your dress, you're going to want to be sure it matches the wedding's theme. Once you've picked out what you'll be wearing on the big day, the next logical step is to get your bridesmaids figured out. Naturally, their dresses are going to have to match the wedding's theme.
You'll need to consult your bridesmaids. They're going to be finicky, and may forget the forest for the trees, as the saying goes. According to Azazie, "The bridesmaid's body type, skin tone, and height are some of the things that you may want to consider when choosing the right bridesmaid dress."
If you can get this essential component ironed out a few months before the wedding, it's going to make things a lot easier the day of the event. You'll likewise want to coordinate with the groomsmen, but male sensibility generally isn't so deep when it comes to clothing, and so you're not likely to have as much trouble.
The Sweet Spot
If you can find a way to book your vendors at least six months to a year before the event, that's going to make things go much smoother than a slap-dash approach. It can be a little bit difficult to coordinate things that way, but it isn't impossible. Prioritize what is most important, and follow the list down from there.
Lastly, don't be disappointed if everything doesn't turn out precisely as you intended. Life is like that, and Murphy's Law may be tongue-in-cheek, but it's so regular in its effectivity some may argue for it on a scientific basis.
The thing is, there is always something that goes wrong, and you can't stop it. The best you can do is be as prepared as you can, and willing to accept things as they come. Who knows—it could be that the unexpected scenario you dread is a blessing in disguise.
Kevin Bennett
Title: SEO Marketeer
Kevin is an SEO marketeer with OutreachMama and Youth Noise who designs value-rich content aimed at increasing clientele for expanding businesses. Networking, building partnerships, and providing quality products with shareable value make this possible. He's an author (Amphibian and The Thief and the Sacrifice to his credit) whose professional writing follows business trends in technology, marketing, SEO application, and much more.