Buying the Perfect Summer Wedding Outfit
Weddings are wonderful events for everyone that attends. For the bride and groom it is a day that they will remember for the rest of their life. It is the day they formalise, and celebrate, the commitment they have already made to each other and start their life together as a married couple.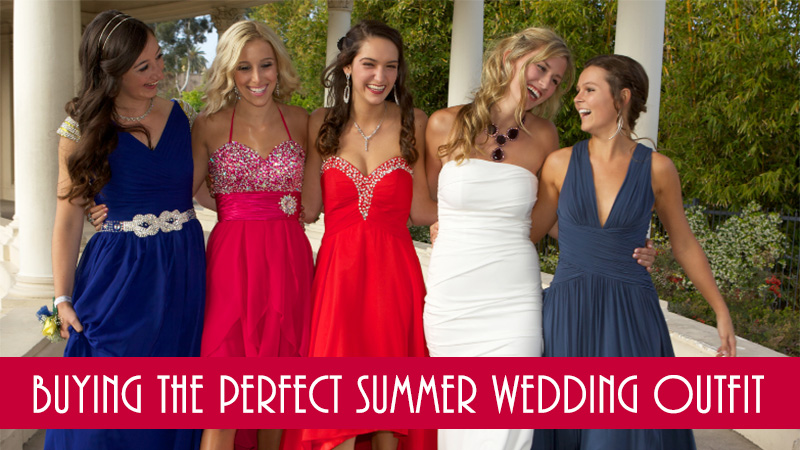 For the guests it is a chance to catch up with friends and family, as well as providing an opportunity to really dress up. Most people love the photos from weddings they have attended. In them they look their very best.
If you have been invited to a summer wedding the tips below will prove very timely. Following them makes it really easy for you to put together the perfect outfit, so you can really relax and enjoy yourself.
Start shopping early
When buying a special outfit it is important to give yourself plenty of time to find the right clothes. Leaving things to the last moment will only result in your having to compromise and wear something you are not 100% comfortable with.
Shop in the right places
In the past, if you wanted an outfit for a wedding your best approach would have been to take a trip to your nearest city to visit a few boutique stores. Today, department stores are just as good a place to find what you need. As you can see here, there is plenty of choice, and the prices are good. The fact that they cater for all age groups and body shapes is definitely a plus. Especially if more than one member of the family needs a summer wedding outfit.
Be guided by the theme of the wedding
Whenever you can, buy an outfit that will complement the theme of the wedding. The bride and groom will appreciate your doing that. It is also a good way to change things up a bit and try a slightly different look.
Bear in mind that the weather can be changeable
It is important to bear in mind that a summer wedding does not always mean it will be warm. It may rain or be overcast. Therefore, you need to make sure that your outfit includes something that will keep you warm and dry.
If you have been invited to an evening reception a wrap or light coat will always come in handy. It is nice to have one to throw across your shoulders in the evening, so you can mingle with those who like to get away from the noise and spend time outside.
In the warmer months, you should also remember to protect yourself from the sun. Hats look nice, and provide some shade for your head and eyes, so are always worth considering.
Choose your footwear wisely
If you are attending an outdoor wedding you need to be particularly careful about the type of footwear you choose. High heels always look nice, but they are not practical if you are likely to be walking on, or standing on, grass.