How to Ask Your Girl Friend to Be Your Maid of Honor
You've said yes to the love of your life, you've said yes to a princess cut engagement ring and might have even said yes to a dress. But there's one more nod that you need to get before you walk down the aisle: your girl friend's affirmation to be your maid of honor!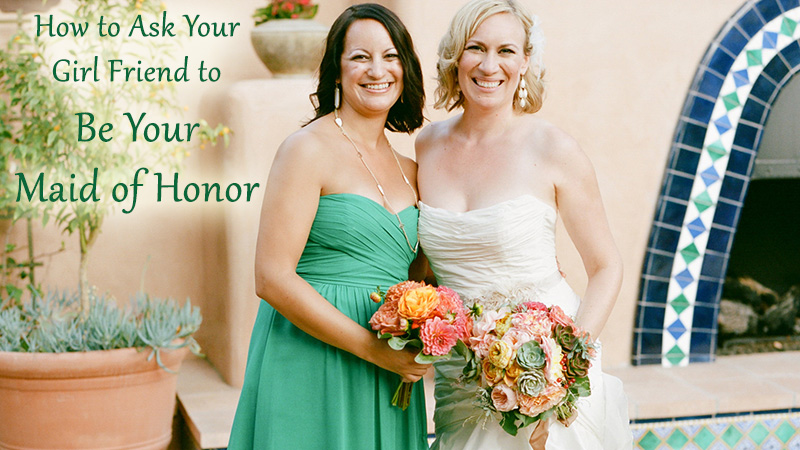 It may look fancy on the outside but it can be challenging to be the bride's trusted associate. Don't worry, your friend will surely be honored to take on the role, just show how sincere you are. Here are some ideas on how!
Go on a pamper day. Any woman would accept an offer of a worry-free day at the spa. Treat your gal pal to a much-needed massage and foot scrub. Doing something soothing is a great way to pop the question.
Mail a gift box. Who doesn't love mail? Send a gift box to your MOH prospect's home or office. It could be filled with luxury bath essentials, a scarf in her favorite color, some nail care products, and of course, a card with "I can't say I do without you" kind of text.
Send a sweet treat. You can also forgo of the pampering gift box and send her her favorite dessert instead! Abox of French macaronsor a basket of chocolates will have her saying yes faster than she can say "confectionary."
Meet up for brunch. If you've always enjoyed bonding over blueberry pancakes, eggs benedict, and soufflé, a brunch invitation will sound casual and fun. Your recent engagement will surely be one of the highlights and while you're at it, tell your best friend how you'd love to celebrate your special day with her as your maid of honor.
Let her crack a fortune cookie. While hanging out together, hand her a fortune cookie, while holding one yourself to make it less obvious, and tell her that you're just curious if you two have your lucky stars this month. Wait for her to crack it open to reveal the personalized message you have had smuggled inside.
Make a toast over dinner. Invite her to dinner. It could be just you two or along with your fiancé. Then right before dessert, make a toast articulating how much you value your friendship together through the years and smoothly propose.
Make her ready. Set the mood for your maid of honor to-be by gifting her with a customized outfit. Have her title or/and name written on a tank top or hat. You can also get personalized satin robes for the bridal party and yourself. You'll see how matching outfits can add more character to your wedding when captured in photos.
Bring out the puberty snapshots. You're most likely choosing someone whom you have known for decades, such as an old friend or your sister. This is a good excuse to bring out photos from the good ole days. Make a scrapbook or creatively have them framed. Prepare it as a gift and add a letter or personally express your request upon presenting it.