7 Style Ideas for the Casual Groom
As the big day approaches, you'll naturally have a lot on your mind – where to honeymoon, who to place on each table at the reception, and of course most importantly, what to do on the stag weekend. Many men also give a great deal of thought as to what they're going to wear on their wedding day. Taking the formal approach, morning suits, or dinner jackets for a late afternoon/evening wedding have always been popular, hence the success of gentleman's outfitters such as Dobell, but nowadays a lot of grooms prefer to go with a more casual look at the altar – and who can blame them when the options for dressing well are so manifold?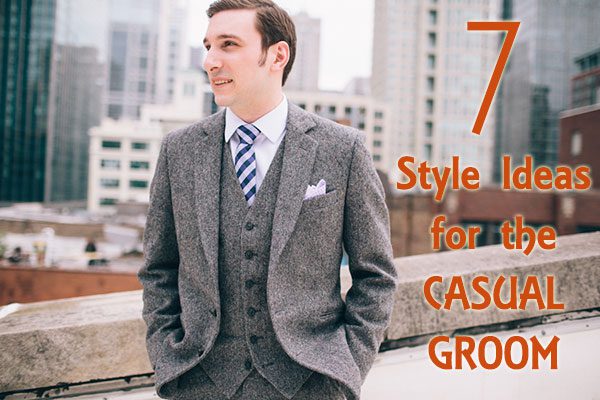 The decision on whether or not to go casual depends on the type of environment that you're getting married in. By example, if you're one of those lucky few who can make it a beach wedding, whether in Cornwall or the Caribbean, then you could go with a linen suit, over a bright, funky shirt. Some grooms even go the whole hog with shorts and sandals. Alternatively, if it's a countryside setting, then a tweed outfit will go swimmingly. Here are some tried and tested approaches for casual grooms…
Hats
For formal weddings, top hats in black silk (exceptional) or grey felt (standard today) are sometimes worn, though they're a far rarer sight than they once were. If you like the idea of headgear but are worried about looking old-fashioned, then why not go for a fedora? Dishing out a few to your groomsmen to go with their suits will give your crew a retro Rat Pack vibe for the photographs, and if your own is a slightly different colour it will be easy to pick you out in a crowd. A good hat can be the making of many an outfit.
Tweeds
If you're getting married on a mild day, a tweed suit is a fantastic way to go. Tweed is warm, it's available in a wide range of colours and cuts, and it oozes style. You can give it the full Mr Darcy, country squire effect, or you can dress it down easily enough. Tweed ties also look especially good with a checked shirt. If you really like the style you can also add a flat cap in a similar material.
Bow Ties
Bow ties have been in vogue for several years now, pretty much since Matt Smith in Doctor Who popularised the look. However, while a staple of formal occasions they're still relatively infrequent at weddings, which is a shame as they can really make your outfit pop. Try giving each of your groomsmen a bow tie but in different colours, to give a sense of chaotic cohesion.
Mismatching
You don't need to wear a suit of course, but if you still prefer the feel of jacket and trousers, try a blazer over a pair of chinos or smart jeans. Dark blue on grey works very well for weddings, as do pastel shades during summer. Playing around with your outfit in this way gives you a lot more room to manoeuvre when it comes to the overall wedding colour scheme too.
Waistcoats
Waistcoats are part three of the three-piece suit, but nothing dictates that you can't wear it without the jacket. In fact some grooms like to pair the waistcoat with a pair of jeans. If it's a country affair and you're going with tweed (see above) then waistcoats with rolled-up sleeves on white shirts is a very popular look at receptions.
Open shirts
Don't want to wear a tie? Then don't. Open-necked shirts with smart casual suits look great, and you may feel much more comfortable. Some men decide to go with a cravat instead, which is a more unusual look but can work in the right circumstances.
Cardigans
Cardigans, or sweaters, worn over smart trousers in place of a jacket, are like tweed perfect for a cooler day, and they give you plenty of scope with patterns and colours.
A few important points for the casual groom to remember:
Beyond the setting and season, the most important factor of all when making a choice on what to wear is what the bride is going to be wearing. If she's in a stunning ivory dress with a long train, and you're in casual mode, then it won't look right.
Though it's standard for the groom and his groomsmen to look similar, you should stand out in some way. So for instance, if you're in identical suits, your tie could be pink while theirs are blue. If you want to have them mismatched, just try to find one element that unifies them, such as each wears a bow tie, or a hat.
You need to ensure your guests are aware of the style of dress required. Again, if they fetch up in morning suits and you're in casual, there's a clash.
Lastly, remember that you will be flicking through your wedding photos for years to come, so try not to get too outlandish. You don't want your children making fun of you in the future, after all.