7 Modern Ideas for Your Wedding
Traditions are usually passed down from generation to generation. If you're planning a wedding wearing white or having a father walk you down the aisle may hold special meaning. Although these can be nice sentiments, there are ways for you to modernize the past to the present.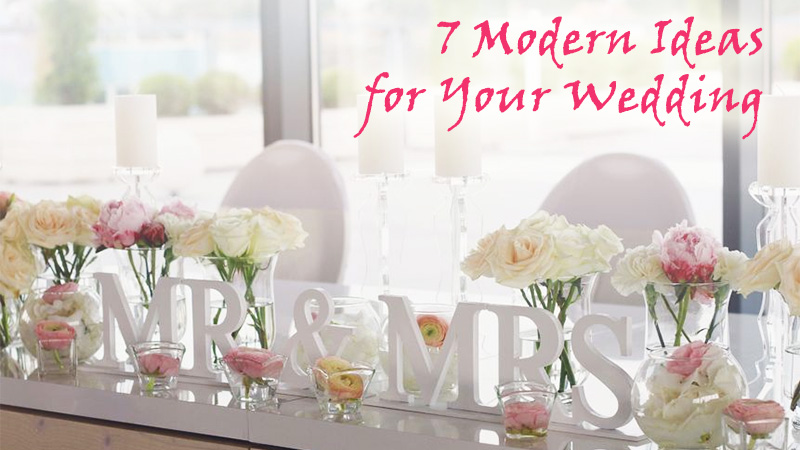 Design Your Own Wedding Website
Social media sites such as Facebook have made it easy for family and friends to connect and share news. The Internet is also an excellent resource where couples can announce both engagement and wedding news. After you're engaged, put together a wedding website and share the information with people who you intend to invite to the wedding. As the special day approaches, you can place your bridal registry invitation on the site. Guests will also be able to RSVP and find other pertinent information such as the nearest hotels and directions to the ceremony.
The Venue
Venue options for the wedding are plentiful. If you're looking to go beyond traditional, modern wedding ideas must include aesthetics, functionality and technology. With luxurious architecture and an LED backdrop, you'll be able to display photos and videos in a modern banquet setting. You can also hold your wedding at your home or an outdoor private setting. If you love to travel, how about a destination wedding?
Ceremony and Entrance
Wedding ceremonies are usually filled with pomp and circumstance. If you're looking to update your special day, you can throw out the normal traditions. Exchanging vows in front of a stranger may not seem a meaningful way to pledge your love, With the help of the internet, a special friend or family member can get ordained online and perform the ceremony. This allows them the ability to customize the wedding celebration based on your years together. The father-of-the-bride also typically walks the bride down the aisle. If this doesn't work for you, ask both parents to make the trip. If you're hosting a backyard wedding, ditch the metal chairs in favor of comfy couches, love seats and fancy chairs from within your home. Although the items are mismatched, the pieces add a homey environment for your guests to relax in while you exchange vows.
Photograph Booklets
Showcasing your wedding photos and videos of the day are much different than in the past. Instead of the pictures collecting dust in a drawer, technology makes it easy for you to store the photos and share with loved ones. Once you get the pictures back from the photographer, you can save to the Cloud and share on your wedding website. Guests can simply download the pictures they wish to purchase easily and quickly.
Simple Fare
Sit down dinners were the typical norm for a traditional wedding. But because today's modern couple are more concerned with personalizing their wedding based on their wants and needs, you can set your own food preferences. If you enjoy casual fare, opt for hot dogs, burgers, ribs and chicken. If tacos, burritos and enchiladas whet your taste buds, ask your favorite restaurant if they cater weddings. For couples who prefer a buffet setting, ask the caterer to put servers in charge of assisting guests along the way. This will prevent confusion and long lines at the buffet table.
Wedding Cake
Wedding cakes in the past were typically ornate and designed to feed the number of guests who were invited to the wedding. If you're looking to modernize your wedding from the non-traditional, you could serve cupcakes. Placed on decorative tiers, you'll get the same visual effect but without the drama that typically comes with a cake. Easy to serve, the cupcakes can also be purchased in any flavor and hue.
Your wedding is a reflection of your personality and style. It should also showcase your love as a couple, and the journey it took to get to your nuptials. You can do away with the normal traditions by customizing your wedding to suit your wants and needs.