5 Unusual Ideas for Wedding Favours
The tradition of giving wedding favours goes back many generations. Couples gave favours as a way to thank their guests for sharing their special day. While the tokens we give vary considerably, the thought behind the gesture remains the same.
Brides everywhere choose typically traditional favours. Bubbles, candies, and candles have long decorated the wedding tables. But why not break with tradition? If you are looking for that "wow" factor, or just something a little different, you need to think outside the box when it comes to your favours.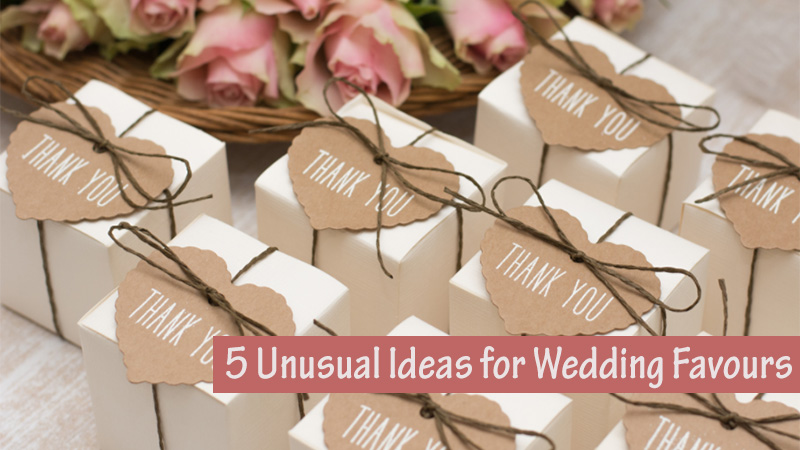 In this post, we look at five quirky but fabulous ideas for wedding favours. Each is guaranteed to add something a little special to your reception:
1. Personalized Wine Bottles
Your reception is the perfect time for the party, right? So why not let your guests celebrate in style with personalized wine bottles? Get the labels printed on your colour scheme, and add your wedding photo and date. These can be glued on any bottle of your choice.
You could choose to give thumbnails to each guest or have a large bottle for the table. The possibilities are endless with this idea. Your family and friends will love these little memories.
2. Wedding Stubby Holders
This one is hugely popular in Australia, but can work really anywhere there is a good appreciation for cold beer. A stubby holder is a neoprene tube that is used to hold beer cans and bottles while you consume them, in order to maintain a cool temperature. How this applies to weddings is that you can now get these done in a wedding theme and personalised with photos. Imagine if every time you went round to a friend's place for a beer, someone was holding a reminder of your special day?
3. Lottery Tickets
Make your wedding celebration all the more entertaining by giving your guests a lottery ticket or scratch card. If your reception is the night of the draw, get the best man to read the winning numbers. It might not make a permanent keepsake, but it would surely be a night to remember if someone won.
Of course, don't forget to thank your best man or groomsmen for helping you out. Thank them with cool groomsmen gifts like cuff links, flasks or cigar boxes.
4. Fortune Cookies
Share your wedding day fortune with your guests by giving customized fortune cookies. This idea of ​​favour we relatively cheap and easy to implement, but will be a great success with your guests. You could write a simple thank-you note inside or think outside the box.
You could include funny quotes about weddings, or details about you as a couple. Maybe add records like "never do the washing" and ask the guests to decide whether it refers to the bride or the groom.
5. Thematic favours
If you have a particular wedding theme, really make the most of your favours. You can get creative and make them yourself, or hunt online for the perfect ones. Match your colour scheme or theme.
For a winter wedding, choose snowflake design favours, or Christmas themed baubles. These are easy to get your hands on and will be a great addition to your reception tables. You could even theme each table differently, and include flavours to satisfy the guests sitting there.
6. DIY CDs
If you and your other half love music, nothing is better than customized CDs. Fill them with clues that have a special meaning for both. Include your first dance and the music that walked down the aisle.
In this way, the CD will always represent you and your wedding day. You can design a great cover that is in line with your wedding theme. These new mixtapes are cheap and easy to make. Perfect for couples on a budget.
Choosing your favours can be a lot of fun. Do not adhere to tradition; there is too much choice out there to restrict you. Shop around and compare the prices if you are worried about the costs. You could even go down the craft route if you wanted a unique touch.