10 Unique Wedding Rings for Your Man
Gold remains the popular choice for wedding rings for men and women, but we know more than one bride who longs to find the right balance of masculinity and quirk in an offbeat wedding ring for the special man in her life. On this quest of finding a special ring that is as unique as your relationship, Dot Com Women came across the best of unconventional wedding rings for men that will celebrate your union that no other.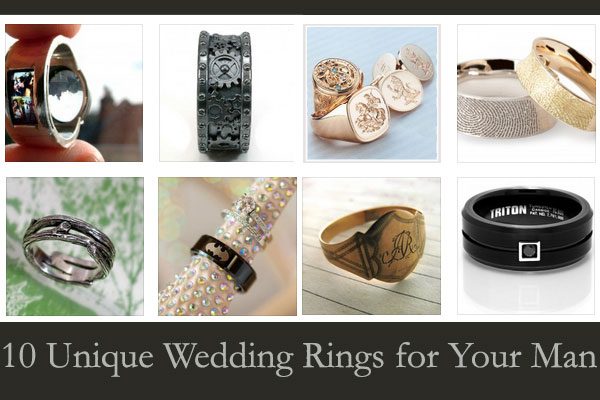 Browse 10 unique wedding rings that stand out (sometimes to the point of being bizarre!) and are definitely worth a look before you finalize your very special ring.
Antique Wedding Ring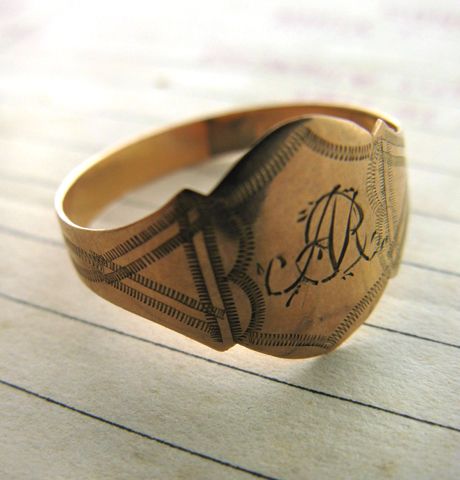 Is your fiance more drawn to the charms of an antique wedding ring with a story and a hint of old glamour? Then you can indulge yourself in a very special vintage or art deco ring. You have to be really lucky to be able to find one with your fiance's initials like a very happy bride-to-be did, when she found the ring above.
Clean, Black & Tough Wedding Ring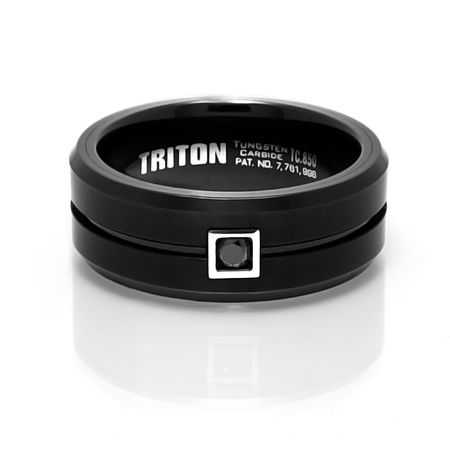 A clean, tough wedding ring without the fuss? That would be the number one choice of men for a wedding ring without a doubt. Forget gold and silver and go bold with black. A classy black ring becomes even more desirable for men when it is coupled with strength. Go for one made of Tungsten Carbide by triton rings, which is said to be the hardest and most scratch-resistant material ever used for making jewelry!
Unique Portrait Projector Wedding Ring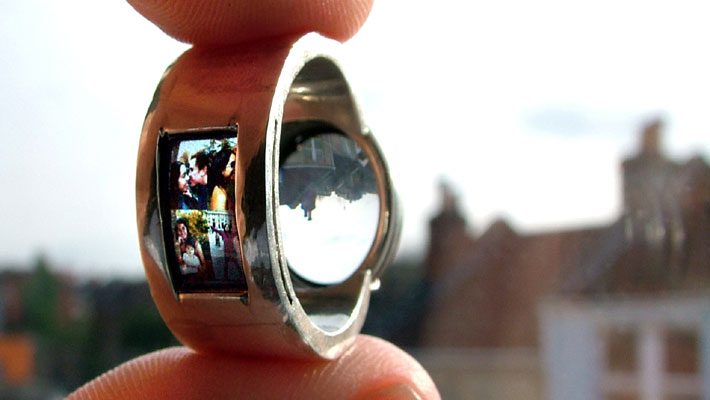 Hats off to Luke Jerram for inventing this brilliant projection ring for his fiance. The ring contains small slides of family photos that can be projected on a blank surface using candlelight or LED light! The slides can be pushed from the side into the ring to make space for more photos later. This ring could be the best choice for both, the bride and the groom. Unfortunately, this out-of-the-world ring was a single piece of art. So unless you can come up with something like this on your own, you could try to find a jeweler who can realize this idea for you.
Camo Wedding Ring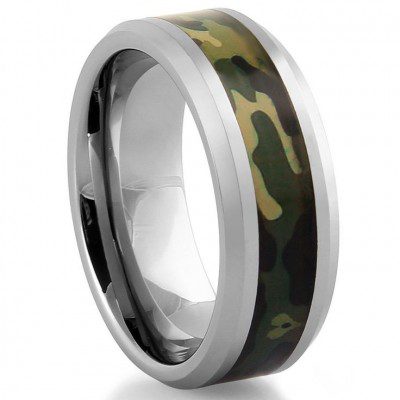 For the outdoorsman in your life, bring the lure of the woods (or the military, if you prefer) into his wedding ring. Camo wedding rings are available in every shade of forest colors as you can fancy.
Quirky, Anti-Cheating Ring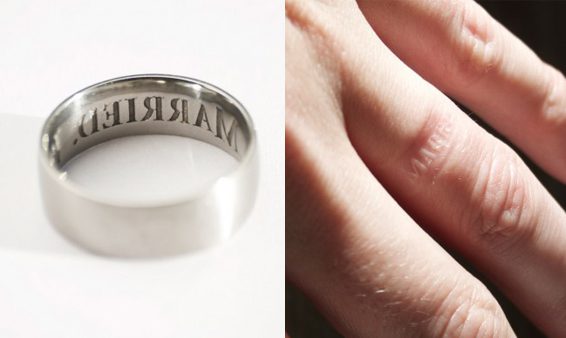 Nope…we are not kidding. There is actually something called that! We believe all marriages are based upon trust and found this to be a great option for someone who can handle the humor. Notorious movie-style cheaters who sneak off their wedding ring and slip into their pockets are in for a shock. This ring is actually engraved on the inside with large letters that say "I'm Married" that leaves an impression on the ring finger. So there is no chance of faking that there is no spouse in the game.
Superhero Wedding Rings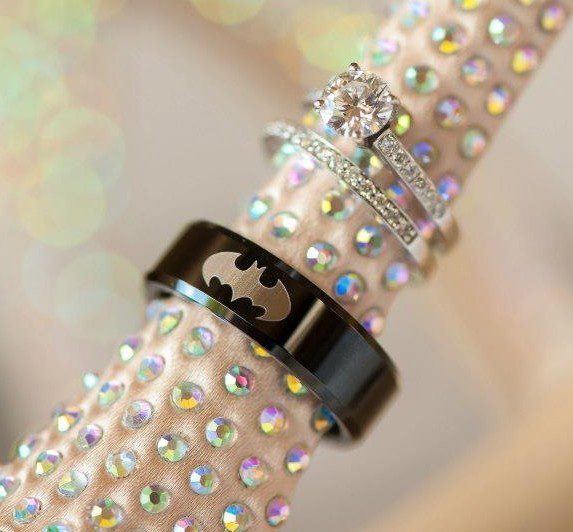 Men are after all grown-up boys and there is nothing better than giving the superhero of your life a ring depicting his favorite superhero. Superhero weddings are a big craze and you can get a themed ring designed to be as funky or as classy as you like.
Signet Wedding Rings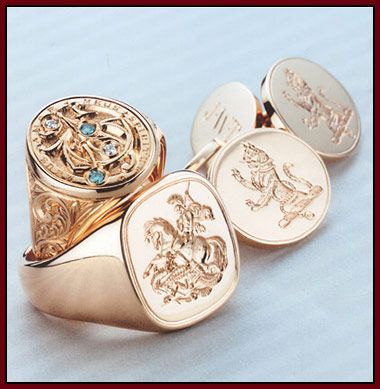 If the groom-to-be is a man who looks like he just walked out of Saville Row, he will love the distinct fashion statement a Signet ring provides. You could choose an engraving of a popular emblem, a family crest, initials or something completely personal to the two of you. The latter could become a family heirloom to cherish.
Fingerprint Wedding Ring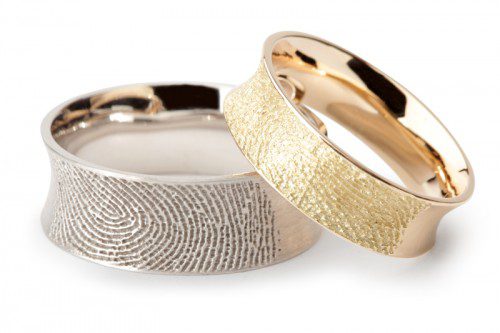 Nothing could be more unique than your own fingerprints! Talented modern wedding ring designers can now engrave your wedding bands with your own finger prints.
Beauty in Imperfection – Branch/Twig Rings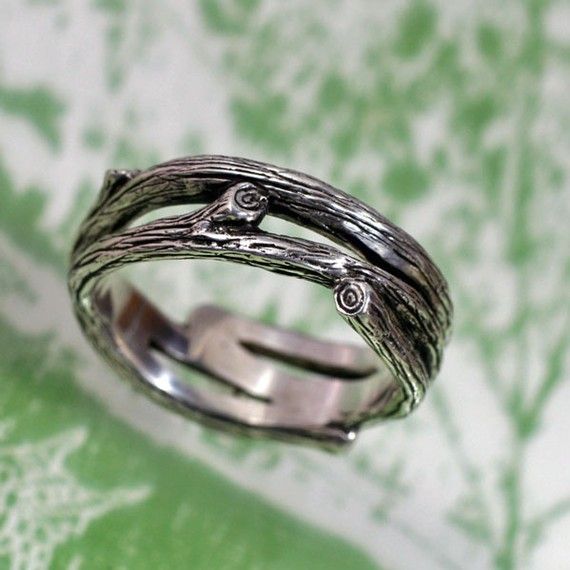 Nature lovers will be thrilled to exchange rings resembling the natural lines of a willow twig. Jewelry designer Barbara Polinsky's thoughts about the beauty in imperfection to an exclusive interview to Dot Com Women made a strong impression on us. Go for a matching set for the bride as well as the groom in silver or gold and celebrate the beauty of imperfection in nature.
Steampunk Gear Ring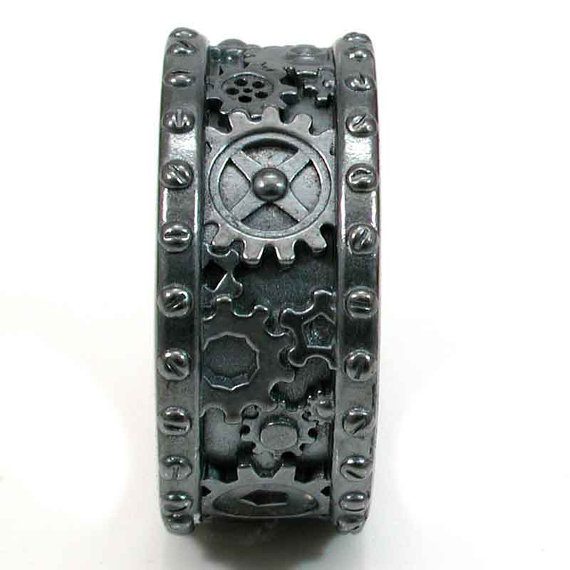 It does not get any more masculine than this one! This beautifully detailed steampunk style oxydized ring is made irresistible with a bunch of different sized gears. Made to order and sold on Etsy, this ring is as tough as it looks.