Interview with April Rogers – Entrepreneur and Publisher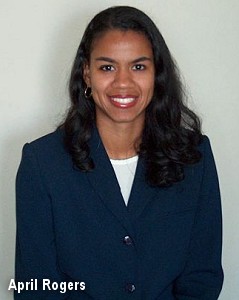 A successful marketing assistant with IBM, a caring and devoted mother to two special need children among her four wonderful kids, a Work from Home Mom, a Publisher – April Rogers has indeed been there and done it all. Her qualities shine all through her exclusive interview with Dot Com Women and are sure to inspire and motivate all women reading this.
She reveals her life – past and present, challenges, successes and strategies that have helped her become what she is today. And most importantly, she also shares with us what very few working Moms do – her secrets to effectively managing her household duties along with running a successful business. Her true and tried tips are here to inspire us to organize our homes, our families and our lives!
1. Tell us about your life before marriage and how marriage and later, kids changed it.
Before my husband and I married in 1992, I was a college student and worked part-time for IBM as a marketing support assistant. Life as a full-time college student and working part-time for a large corporation was busy (or so I thought at the time). Once I got married, graduated from college, and had children, I realized that busyness took on a whole new meaning than before. I quickly entered into a season of life where I was constantly trying (and continue to try) to keep my life in balance.
2. Why did you choose to start working from home and when and how was it accomplished.
At some point while in college, I realized that I wanted to be an entrepreneur. I found myself constantly reading magazines for entrepreneurs and home-based business owners in hopes of finding my niche in the small business world. But the actual decision to work from home and run a home-based business came while I was on complete bedrest for four months while pregnant with my first son. During this time, I wasn't allowed to get out of the bed (except for a few moments at a time and doctor's visits). I was ordered by my physician to lie on my left side the entire day. Although I was surrounded by a supportive family, the isolation and boredom nearly drove me crazy until I finally realized that I had the perfect opportunity to research a home-based business. I immediately took advantage of my local library's mobile book delivery service and began reading as much as I could about starting a business. Along with indulging in my favorite pastime (reading books), I also decided to keep a journal to help cope with the challenges of being on bedrest. My experience with journal writing soon became the catalyst for a book publishing business that I started in 1993. From bed I wrote and designed my first memory book for girls. After I delivered my son and spent a few months getting used to the demands of motherhood, I hired a commercial printer to print a thousand copies of my new book. Over the next few years, I learned as much as I could about book publishing and eventually printed and imported several thousand copies of my new book from overseas.
3. Tell us more about your work at Scribe Time.
ScribeTime.com is an online store that is actually a branch of the publishing company that I started in 1993. Years ago I used to run a very popular journal writing website called Journalwriting.com as part of my publishing company. But after having to deal with some medical issues with two of our children, I decided to temporarily place all business activities on hold. Unfortunately, during this time I let the domain name Journalwriting.com expire (a big business mistake). So, late last year I decided to reenter the online market under a new name, ScribeTime.com. Through ScribeTime.com, I offer a variety of gifts and products for writers, moms, women, brides, and others. Some of the products I offer are writing journals, stylish stationery, personalized stationery, kitchen & recipe organizers, and memory books for babies, kids, and others. Like publishing, running ScribeTime.com allows me to combine my love of books, my desire to encourage others through positive written expression, and my love of using words to encourage, better plan, remember and record important details of life.
4. Your new venture is in the field of publishing. What made you choose this field?
Years ago I choose publishing in part because I love books. I found book publishing to be the perfect business for me because I enjoy creating unique and high-quality gift books that help other people record the special moments and memories of their lives. Self-publishing is also a business that I'm passionate about. It allows me to use my education in business management and marketing, stay at home with my children, and hopefully encourage other people through the written word.
5. Tell us more about Harvest Point Press, Inc.
Harvest Point Press, Inc. is a small home-based publishing company that specializes in offering information and high-quality products that encourage other people to reach new heights in their lives. Hence, our tagline – "Reaching new heights of potential through the written word." My personal belief is that writing is a great way to explore one's own self and keep in touch with others. This is one of the reasons I enjoy offering products that encourage people to write about their feelings, thoughts, and memories or share an encouraging word with others through writing a note or card. My company has evolved over the years from offering memory and keepsake books to now also running an online store, ScribeTime.com and having plans to one day launch an informational site for women business owners.
5. Please share with us the challenges faced by you in parenting your special need kids, managing other kids and helping them to get along together. How did you emerge successful in such a complex situation.
Some of the challenges that I've faced in raising children with special needs along with my other children include trying to ensure that as their mother that I'm constantly in tune with my children and meeting each of their individual needs given that each of them are so different and therefore have such diverse needs. Children with special needs require a lot extra attention. So, my husband and I both try to ensure that each of our children get the time and attention that they need and deserve. Thankfully, my two "normal" boys do exceptionally well with my other two boys with special needs. They are very attentive and compassionate – which helps a lot. (It's managing the normal sibling rivalry between the two "normal" boys that can be exhausting!)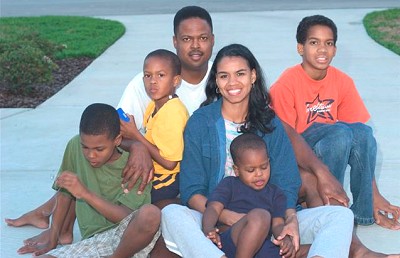 I think I've emerged successfully by working as a team with my husband in raising our children, praying, relying on my Christian faith, and not forgetting to take care of myself along the way. I finally figured out that with so many "withdrawals" on my time and energy that it's essential for me to make regular "deposits" into myself: spiritually, physically, emotionally, and mentally. Though running a business does require extra time and energy, it's become a way that I'm able to meet some of my own personal needs.
6. How did you successfully manage your work along with your kids and other household duties?
This is something that I work hard at every day. Admittedly, many days I get it right and then others – maybe I've spent a little too much time on business activities and later realize (maybe after staring at a half dozen loads of unfolded laundry) that I need to make some adjustments for tomorrow to be a more successful day. The two things that help me the most are working constantly on organization and also prioritizing my day according to what I believe to be my true purpose for this point in my life – being a wife and mother. Although it's important for my home to be neat and clean, my number one priority is not to have a spotless home, but to make sure that my children and my husband's needs are being met. So what I do is allocate a certain amount of time each day while my children are at school to straighten, do laundry, or clean. I do what I call a "Power Clean" – fast cleaning and straightening within a given amount of time. I'm also learning to delegate some of the household chores to my children. Lastly, I try to watch what I eat and avoid foods (like too many carbohydrates or sugary snacks) that drain my energy and make it harder for me to complete the household chores and family responsibilities that I have for the day.
7. Did you, at any point of time, feel guilty about not having enough time for your family? If yes, how did you make up for it?
Yes, there have been days when I've looked back and said "Wow, I didn't spend enough time with my children or my husband today". In that case, I make sure to work harder the next day to spend time with them doing things that they find meaningful. This might be playing basketball in the driveway with the boys, massaging my husband's back or reading to my children. The two questions that I try to keep in the forefront of my mind are "Ten, fifteen, twenty years from now, what kind of mother will my children be able to say that I was while they were growing up? And as my husband's partner in life, are his needs being met and what kind of wife would he say that he has? Will my husband and children be able to say that I spent time nurturing my relationship with them and was involved in the big and little details of their lives or will they say that I was too busy growing a business to spend time with them?" I certainly believe that I am entitled to spend time on things that are important to me, but asking myself the above questions on an almost daily basis, helps me to balance my time in a way that keeps my priorities in line with my true calling as a wife and mother.
8. Has your family, especially your husband, been supportive throughout? Any other people who were instrumental in your success?
My family and husband have been very supportive. After recently restarting my business, my husband committed to doing more around the house like handling dinner on certain days of the week. But I will say that there were times when I ended up dedicating a little too much time to my business and consequently my husband gently expressed his concern or frustration. But for the most part, my family understands that being an entrepreneur is important to me and part of who I am and therefore they allow me the space and freedom that I need to creatively express myself in this way. This is why trying to successfully balance my business with my family is something that I work so hard at every day. I want to keep their support and not open the door for them to feel neglected or frustrated!
9. Your true and tried tips for success in a Work at Home Business?
I mentioned earlier that being organized is a huge key for me in balancing my life. One of the specific things that I try to do to help me be more organized is to plan my family's meals every week. I usually write or quickly type up all of our meals for the week and then post it onto the refrigerator. I compiled a master list of meals and recipes that my family enjoys on one laminated sheet. I usually try to look at this sheet and write out a menu before I go grocery shopping. Posting the weekly menu on the refrigerator eliminates the scenario of me standing in the middle of my kitchen at 4:00 in the afternoon and asking, "What are we going to eat for dinner?" The menu includes a variety of meals: some involve more preparation time, some are meals that are super easy (like sandwiches), and others may be a take-out meal or two for the week. My family's schedule for each evening and my energy level usually determines what I choose to prepare (or buy) for dinner for that evening. Secondly, my husband and I are learning to delegate some of the household chores and responsibilities to our children. Aside from teaching them responsibility, we've learned that we don't have to (nor should we) be responsible for doing everything that needs to be done around the house. Lastly, I try to write everything down and store appointments and to-do lists in my PDA. With so much to do all of the time, I'm prone to forget things: permission slips, appointments, etc… This way, I can more easily prioritize what I need to get to first.
10. Many of readers have special need kids or need to care for other family members. Any tips on how they can do that efficiently while managing their careers as well?
In addition to the tips above, work at home moms who find themselves stressed over the amount of things that need to be done – I would suggest that they actively try to find ways to reduce their stress level. Try asking trusted family members or friends for help. Also, one of my goals is to one day be able to hire outside help with housework. Although I know many moms work from home to supplement their family's income, if you can afford to hire outside help with housework – then try that as well. As moms and business owners, we have a lot of responsibilities and a lot on our plates. The times when I've removed or allowed someone to remove things off my plate – I've learned that the plate gets a little easier and lighter to carry and balance!
11. Any plans for the future?
As far as my plans for the future, I'm planning to continue working on growing ScribeTime.com. I'm also planning to get things rolling again with the book publishing side of my company and as time and finances allow, publish some of the projects that have been brewing in my head for awhile now. I'm also planning in the near future to launch and build a website support community called Mom Biz Owner for Mom business owners where we can support each other in trying to balance the demands of motherhood with running and growing successful businesses. Lastly, I'm just going to continue to take it one day at a time and work on the things that I need to focus on and that my time and energy allows.