Female Gambling Still on the Rise
Gambling has seen some incredible changes over the last two decades. From a dated pastime that was enjoyed in either a licensed casino or a stuffy betting shop, laying bets and enjoying casino games has been brought to the masses via the internet. Online gambling has changed the entire industry, with gambling companies able to access brand new markets, with improved experiences for different types of customer.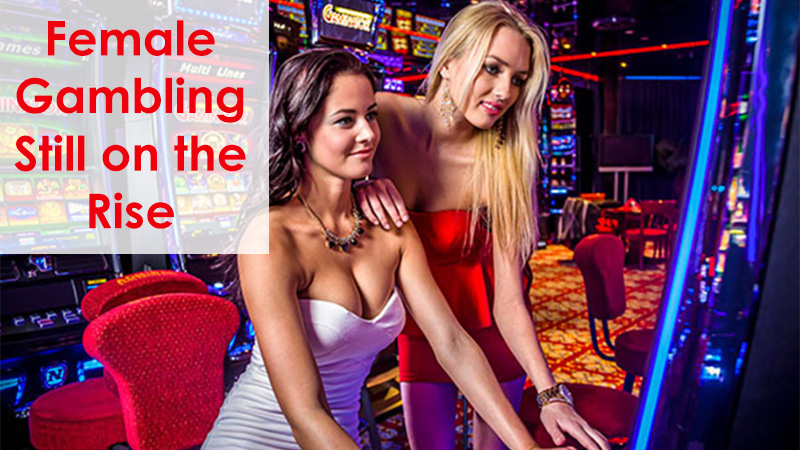 Gambling at a casino used to be restricted to physical trips out of the house, with players either booking their expensive holiday to Las Vegas or Monte Carlo, or dressing up for a night out and heading to their city centre casino for a round of expensive drinks and an evening spent with pretentious fellow gamblers making silly bets to try and impress people. Now, with an internet connection and a computer or smart device, gamers can lay a bet, play a game of poker or spin a roulette wheel from anywhere in the world. Along with this ease of access and mainstream availability, games are often tailored to specific customer needs, with themes and artwork helping online casinos to engage customers and keep them playing.
Gambling Sexism
Despite making up 50% of the population, women have been overlooked as potential customers for many years. Bingo has always been the classic 'ladies game' with a trip to the betting shop or night spent playing casino games left to men, which in turn has allowed a macho image around gambling to emerge. Some adverts make it very clear who they are trying to target, with gambling painted as the perfect accompaniment to the 'lads night out' or a day watching sport. This 'gambling sexism' has only began to change in recent years, not down to pressure but down to the fact that females are a huge market for online operators.
Feminine Gaming Themes
It's no secret that the number of female gamblers is rising massively, with women now making up a big chunk of most gambling companies' customer base. This is due to the more accessible gambling around today, with it no longer being necessary to go to an actual casino which allows women to play from the comfort of their own home at any time they want to. As well as casino gaming, numbers in sports betting, slot gaming and online bingo have jumped massively. The leading online casinos such as 888casino have reacted brilliantly to this increase by providing new gambling experiences that were pretty much non-existent less than 5 years ago, with themes taking a decidedly feminine turn. There are even entire gaming websites that are solely targeted at women, some of which play up to stereotypes by making everything annoyingly pink and fluffy.
Preference for Online Casinos
The really promising aspect of this rise in female gamblers however is that games are becoming more accessible to women from all walks of life. Getting out to a land-based casino or heading to a bingo hall is expensive and time consuming, with members of both sexes having to commit time just to get somewhere to try and unwind. Casinos can be stressful environments and can sometimes be dominated by people who have had something to drink, making it difficult for people who just want to unwind and enjoy some gaming. Online casinos take this element out of gambling, with users able to enjoy stress free gaming without having to get dressed up for a night on the town.
Improved Technology Makes for Easy Access
A key element in the success of online gaming has been the vast improvement in mobile technology. Pretty much everyone now owns a phone that is capable of accessing the internet, which in turn has allowed players to enjoy gambling anywhere and everywhere. Women in particular have benefited from this ease of access, with many opting to gamble online from their phones while watching TV, during breaks at work or whilst out and about. This 24/7 gambling culture has opened up the entire industry, with many that would be otherwise unable to go to a casino or bookmakers able to enjoy gambling alongside other life commitments.
It is certain that we will see more female gamblers as the industry becomes more relaxed and online gaming becomes even more mainstream. The range of games aimed at females is already pretty wide, but we will see even further diversity within online gambling.