Why Spring is the Best Time of Year for Kids to Explore the Outdoors
Nature is at her busiest in the spring months. March, April and May are a time of activity for the world around us, with buds bursting, leaves unfurling and animals waking from their winter hibernation. So, there's no better of time of year to get kids exploring the great outdoors, is there?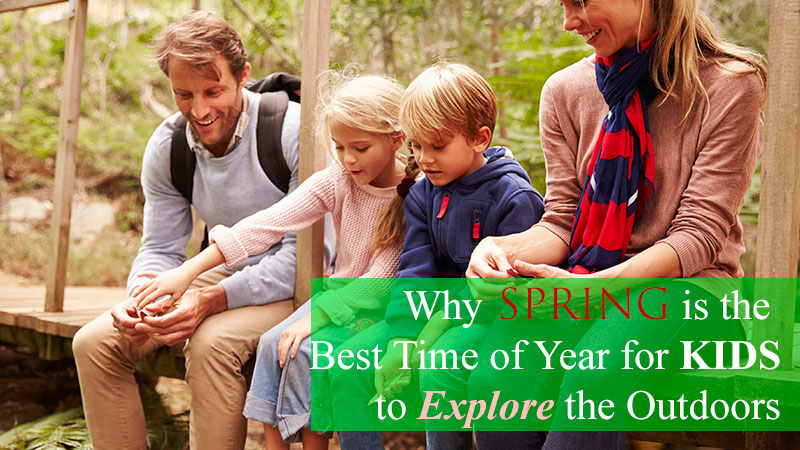 There's suddenly more daylight!
Now that the clocks have gone back, there's plenty more daylight to enjoy after the school day is over. Take a gentle stroll after dinner on a weeknight (if you can find the time to squeeze it in before bath, of course), letting your little ones enjoy some fresh air and walk through the park before bed.
There are lambs in the fields…
Is there anything better than going for a family walk on a Sunday and seeing those little lambs wagging their tails in the fields? We think not! And your kids will find it pretty adorable too. Take a walk through the countryside and see how many lambs you can count, or consider visiting a local farm to try bottle feeding them.
…and birds in the trees
There's a cacophony of birdsong happening up in the trees when spring rolls around, and no doubt your children will enjoy being kitted out with binoculars to see what they can spot on the branches. The RPSB has some great guides for bird watching with kids if you think it's something your children will enjoy.
The leaves are unfurling on trees
Budding artists might like to head into the forest to see the flora and fauna that's sprung from the ground since winter: bluebell woodlands will lay a carpet of colour for little ones to run through, and the beautiful greenery is luscious and joyful to spend time in. Enjoy the April showers beneath the canopy of trees, too: the 'plop' of raindrops falling from leaves onto coats is satisfying if you're kept warm and dry beneath your raincoat!
Butterflies become a common sight
With flowers appearing in spring, you'll notice the growing number of butterflies and bees that are attracted to them. Get the kids outdoors and pose as intrepid explorers to see what fuzzy, furry and fine-winged insects you can spot together.
Mammals are waking from their sleep
Hedgehogs are sleepily stumbling out of their hibernation spots, and so are queen bees, frogs, grass snakes, lizards and toads. Get the kids in the garden to build hedgehog hotels, digging shallow ponds for frogs and toads, or even think about leaving little bowls of sugar water for hungry bees and butterflies.
Migrant bids arrive 
Finally, chiffchaffs, swallows and cuckoos are heading our way in March, April and May, which means it's probably time to get a bird feeder up in the garden – just in case our feathered friends struggle to find food from time to time. Enlist the help of your little ones for this fun spring-time activity and see if filling up the bird feeder encourages your children to spend less time on a screen and more time outdoors.
Those are just a handful of reasons we think spring is the best time to get the kids outside with you –kit them out in wellies and kids waterproofs (for those inevitable spring showers) and see if they agree!