Tips for Breastfeeding at Your Workplace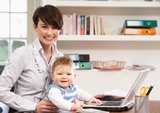 Breastfeeding is the healthiest option for your baby. Not only does it provide them with the nutrition that they need to grow strong and healthy, but it also is the best way to develop their immune system. If you want to continue to breastfeed your baby after you go back to work then you may want to use some of these tips to help ease your transition from home breastfeeding to breastfeeding at your workplace.
1. Find a Private Area
If you have a private office that has solid walls and a lockable door then you can easily breastfeed your baby in your office. If you don't have a private office then you will need to ask your employer if you can use a conference room or other private room. Most employers will accommodate lactating mothers.
2. Pumping
Another option that you have is to pump your breast milk at work instead of breastfeeding the baby directly. This requires less private space. If you don't have a private office or a conference room that you can use, then you can always pump in the ladies powder room.
3. Lunchtime Dash
If you want the special time with your baby during feeding time then you may want to talk with your employer about arranging your schedule so that you can go home, or to the babysitter's home, to breastfeed your baby. In addition to re-arranging your schedule you may also need to have a longer lunch hour to accommodate travel time.
4. Utilize On-Site Day Care
If your employer offers on-site day care take advantage of it. This will allow you to breastfeed several times throughout the day without disrupting your work schedule. You can breastfeed on your morning break, on your lunch break, and on your afternoon break.
5. Ask if You Can Bring Your Baby to Work
If your job doesn't require the operation of heavy machinery or working around direct heat sources then it should be pretty safe to bring your baby to work with you. Ask your employer if it would be okay to bring your baby to work during the months that you breastfeed. You can use a baby sling or portable crib to keep the baby safe and close to you while you work. This will provide you with the opportunities to breastfeed when your baby needs it, and it will allow you to get your normal work done.
6. Stay at Home if You Can
If all else fails ask if you can telecommute during the months that you breastfeed. With the advancements in computer technology, internet technology, and communication technology a lot of office jobs can now be completed at home. Working at home will provide you with the privacy that you need to breastfeed, as well as the proximity to your baby that you need to breastfeed.