Experience Gifts to Make Someone's Birthday an Unforgettable One
Birthdays are special days, but as we get older they can all sort of roll in to one. If you want a birthday gift for someone to be memorable, stand out and live long after they've opened it up, look for experience gifts. Most people have everything they need, so when it comes to buying them something it can be hard to find that perfect 'thing'.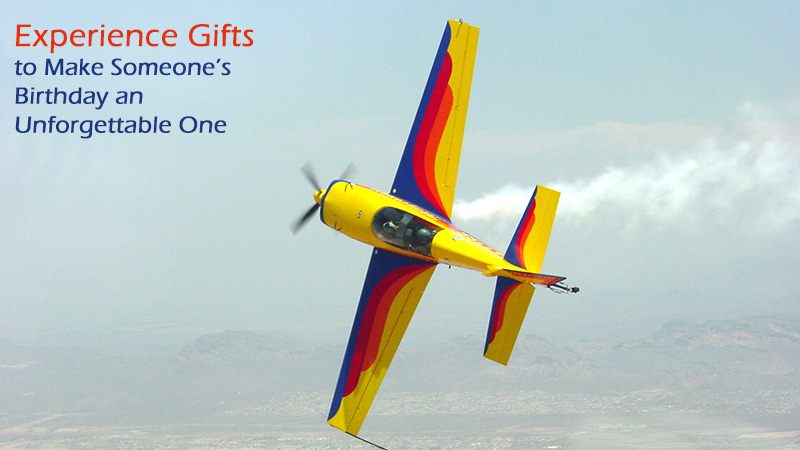 This phenomenon has started the market of buying experience gifts, allowing someone to do something out the ordinary and create memories that last a lifetime. I've found inspiration on the hunt for amazing birthday gifts online to try and suss out some of these experience days, and I'm hoping they'll help strike up some much-needed inspiration for you.
JCB Racing
When people think about motor racing they probably think of one seater low to the ground cars racing round a track with the noise of the engine roaring and the adrenaline rush that comes with it, so you probably wouldn't think of diesel diggers with a top speed of 20mph. Well, this is exactly what this is. The vehicle is a one-seater, but it's not low to the ground, it weighs 8.5 tons and includes a fully functional digger. When you get these roaring around the track they feel far faster than the dizzying heights of their top speed of 20mph. For an unusual day out for anyone who drives and likes to linger longer than is necessary at construction sites, this will be a surprising gift that's a bit of a laugh too.
Aerobatic flight
If you know someone who likes the thrill of an adrenaline rush, chances are they'll love rollercoasters and other thrill rides. If they're into that then they'll love an aerobatic experience. Take to the skies and perform barrel rolls, loops stall turns and climbs with a highly trained aerobatic pilot. It's like being part of an old fashioned aerial dogfight without the being shot at! You can even take the controls and perform the stunts yourself. A truly unforgettable experience.
Animal Experiences
If you know an animal lover, then they'll love the chance to get up close and personal with some exotic animals. Experience days I've seen include meeting African big cats, where you can join them in their enclosure with their own specialist keeper to ensure your safety. Other similar experiences I've found include swimming with crocodiles (not for the faint hearted), meeting alpacas and then a class on making felt with their fur (in a completely animal friendly way go course) and, my personal favourite, a day with owls, where you can get them to land on your arm just like in Harry Potter! A perfect gift for the animal lover or someone who has always said their Hogwarts house would be Gryffindor.
Spa Days
On the flip side of the adrenaline junkie experience, you could buy a gift for someone who leads a hectic life and wants to relax. There are all kinds of spa days available at various locations offering all sorts of relaxation treatments, holistic therapies and options including champagne lunches, afternoon teas and overnight stays at adjoining hotels. It's an ideal gift for someone you know who is always overworked and needs some much-needed TLC.
Tea Blending workshop
Also on the low adrenaline end of the scale, a tea blending workshop is ideal for people who love their tea, and luckily coming from the UK, that's practically everyone in my life. The experience includes learning about different types of teas and herb, their properties and their flavours before getting your hand dirty by blending your own tea, exactly the way you like it. It's a little different than coming around with a box of cookies and telling someone to put the kettle on.
I hope you've enjoyed these unique gift ideas and have found some inspiration for the next time you're looking for something extra special online.