Back to School Lunch Box Ideas (Hot and Cold Lunches)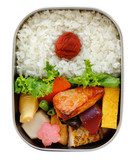 One of the major concerns during back-to-school time is lunch box ideas. What to pack in your kid's lunch box that doesn't come back un-touched causes a great deal of stress. We give you here more than 60 tried and tested lunch box ideas for kids of all ages – from toddlers to older kids.
Ideas have been classified into main meal dishes which is the major filler item and accompaniments which are recommended to provide children with some variety in their lunch box, to ensure they receive proper nutrition and also to give them some kind of 'backup' in case they don't eat the main dish.
Main Meal Dishes  | More Main Meal Dishes  | Accompaniments
Main Meal Dishes
1. Sweet and savory muffins – See recipes for savory Pizza Muffins and Florentine (Spinach) Muffins and sweet Peanut Butter Banana Muffins.
2. Wraps – Roll up cheese, jam, jellies, hummus, spreads, peanut butter etc. in wheat tortillas. For older kids, consider Chili and Rice Wraps.
3. Sandwiches – some possibilities are hummus, apple butter, butter, canned pumpkin, cheese, almond butter and jelly, cheese tomato, jam. Keep experimenting till you find which ones your child likes most.
4. Mini Kebabs – Make vegetable or fruit kebabs and insert toothpicks or cocktail sticks to make them easy finger-foods.
5. Mini Patties – These little snacks can be complete meals at schools is made using healthy ingredients.
6. Mini Pizzas – You can also make 'bun pizzas' using soft buns as the pizza base.
7. Stuffed Cherry Tomatoes – Stuff tomatoes with grated cheese, boiled peas, boiled mixed vegetables or other stuffings of your choice.
8. Veggie 'hot dogs' – Make a simple vegetable sandwich with a long patty using a hot dog bun instead of regular bread.
9. Pita – Pita bread with hummus tastes delicious. Pack the bread and hummus separately for your child to assemble it during lunch time.
10. Cold Pasta Salads – Make using noodles or other different shaped pasta that your child likes and add fresh seasonal vegetables to it. See our Cold Pasta Twists Salad recipe.
11. Homemade 'Lunchables' – Buy segmented containers and make your own 'lunchables' like pizza that can be assembled right then. Segmented containers are commonly available in most stores and known as 'bento boxes' or 'laptop boxes'.
12. Chicken Salad anything – Stuff freshly made or leftover salad in wraps, sandwiches, stuffed pitas
13. Mini Burger – to be assembled during lunch time like homemade 'lunchables'. Pack buns, spreads and patties separately.
14. Pancakes with Syrup or Fruit Jelly – Make pancakes and jellies using seasonal fruits for variety.
15. Macaroni and Cheese with veggies (in thermos) – If you are looking to pack a hot lunch, this goes well with most kids.
Main Meal Dishes  | More Main Meal Dishes  | Accompaniments