5 DIY Baby Gift Basket Ideas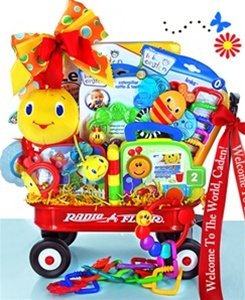 New moms are in need of so many baby supplies that it is always a good idea to gift a gift basket filled with useful goodies for both the baby and the new parents instead of one dicey gift. But baby gift baskets available in stores are often very pricey and not really made to suit your customized needs. Whether you are invited to a baby shower or are visiting the proud parents after the baby has arrived, you can throw together a fabulous gift basket for the baby in no time.
Here are some creative ideas for putting together a Baby Gift Basket:
1. Baby Bath Gift Basket
Line your container with a couple of soft baby towels or a cute terry bath robe. Then arrange baby bath items like shampoo, body wash, soap, lotion, powder, massage oil, bubble bath, toothbrush, baby toothpaste and a set of bath toys. Johnsons and Aveeno are the best and most loved brands for bathing and skincare supplies for babies. If your space and budget permit, you can add gifts for the mom that will help her make the bath time easier. These can include a bath mitt and an apron. If the gift basket is intended for a close friend and you have a larger budget to work with, you can use a baby bath tub instead of a container and add additional stuff like an inflatable travel bath tub etc.
| | |
| --- | --- |
| Aveeno Baby Gift Set, Daily Care Essentials Basket, Baby and Mommy gift set | Rub a Dub Dub It's Time For Tub Baby Gift Basket for Boys or Girls |
2. Baby Essentials Gift Basket
Babies require these consumables in quantities you cannot even begin to imagine. Any mom would love to receive a hamper stuffed with disposable diapers, cloth diapers, baby wipes, disposable bibs for traveling and going out, socks, baby food jars, lotion etc. A small toy like a rattle and a pacifier or a onesie and teether make a great addition to the gift basket and make it more interesting. You can assemble this basket in a metal pr plastic bin that can double as toy storage or a diaper disposing bin.
| | |
| --- | --- |
| All Boy Baby Wagon | Welcome Baby Girl Bassinet – Pink |
3. Baby Meal Time Gift Basket
Meal time is an important time for both babies and moms and all parents love to make it fun and interesting. Put together a gift basket including a meal time platter or bowl set, small containers for snacking on the go, baby food jars, bibs, napkins, milk bottles, milk powder container (if you are certain that the baby is going to be fed formula milk), infant cups, spoon and fork cutlery sets etc.
4. Baby Play Time Gift Basket
Start with a toy basket and fill it with baby toys like soft blocks, rattles, teethers, pacifiers, cloth books, soft toys, musical toys (like Baby Einstein Carry Along Tunes), squeaking toys, developmental toys (for e.g. Lamaze Toys) and other activity toys like the Fisher Price Tummy Time Toys with Mirrors. If the gift basket is for a close friend and you have a higher budget, you can choose a toy chest instead of a basket and add an infant activity gym or an activity play mat to it as well. The Baby Einstein Gift Basket shown at the top of the article is a great example of a Toy-filled gift basket. Here are more ideas for popular toys to add in:
5. Nursery Room Gift Basket
Chances are that the parents have already planned and decorated the nursery, but there is always room for more. You can make a gift basket consisting of a pretty flat sheet or a baby blanket (rolled up and tied with a ribbon), photo frames, a colorful mobile, lullaby or nursery rhymes CDs etc. If your spending budget is higher, you can make a larger gift basket containing a quilt, crib bedding set, small pieces of furniture etc.
Take a step ahead and gift a meaningful and thoughtful gift basket for the new baby. Your gift will stand out from other cookie-cutter gifts and make a valuable addition to the baby's growing years.