Pet Care Corner: Looking After Your Fluffy Friend Responsibly
You may be desperate for a dog of your own and why wouldn't you be? They make a wonderful companion and will add so much to your life. But, can you do the same for them?
Before you start looking through the puppies for sale, you need to make sure you know how to look after them and are ready for the responsibility.
You know what they say, a dog is for life and you are committing (depending on the breed) to looking after them for the next 10 plus years.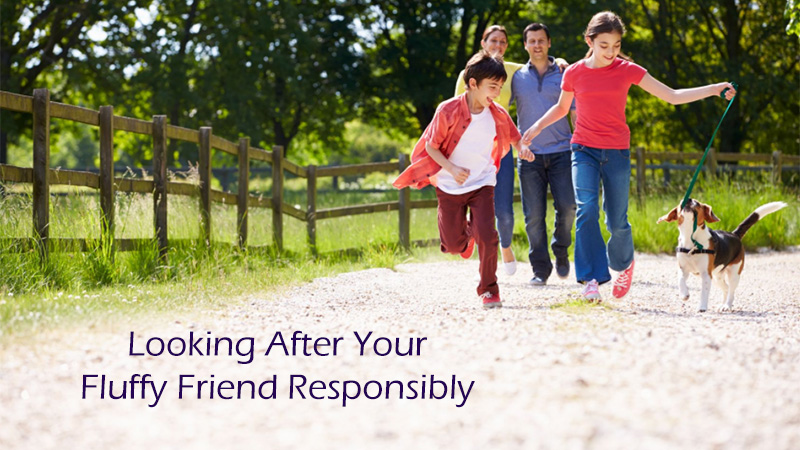 Feeding…
Dogs can't grab a snack or rustle up a meal in the way we can – they need us to provide them with their food every day. You should be feeding your dog twice a day – once in the morning and once in the evening – alongside a few treats during the day. It is important to look into what you should be feeding them as well as what you shouldn't. Some 'human' food such as broccoli can be beneficial to dogs while others, such as chocolate, can be fatal. Alongside this you need to make sure you are providing them with unrestricted access to fresh, cool water.
Exercise…
Your dog will need plenty of exercise – ideally you should be walking them at least twice a day – providing them with 30 to 60 minutes of exercise a day. Outside of this, dogs love to play and you should provide them with balls and other dog toys that they can entertain themselves with. Set aside some time – either on the walk or in the garden – to throw the ball for them.
Living space…
To be a responsible dog owner, you should have a home that is suitable for them. In an ideal world this will be a house in the countryside with access to a garden rather than a fifth floor flat in the centre of a busy town. You also need to consider how much space you have when choosing a breed – a smaller house with a little garden won't be ideal for that Great Dane, but it might well suit the Cockapoo.
Time…
Firstly this means time to give them attention – to train them and socialise them, be with them, care for them, play with them and walk them. They can't be left home alone for hours on end, they shouldn't really be left for any longer than four hours and for a puppy it would be even less than this.
Similarly, you can't just jet off on a last minute holiday or even a day out without thinking of the dog – who will look after it? Can it come with you? Can you afford this cost on top of the holiday?
Money…
Finally, you need to have the money to enable you to be a responsible dog owner. The average lifetime cost of owning a dog is between £16,000 and £31,000. After purchasing the dog itself, you then have the ongoing costs that come with them and you have to be prepared for any unexpected vet bills because they don't come cheap.
If you have read the above and feel like you are in the position to have a dog of your own then all you need to think about is which breed would be best for you. If not perhaps you would be better off looking for a lower maintenance pet and waiting a few years until you are really ready for the commitment that comes with owning a dog.