Before You Rush Out and Buy Your Daughter a Horse Here's What You Should Know
Although horses are wonderful creatures, we don't recommend you go rushing out to buy your daughter one before you read the information we're going to put in this guide. You need to be aware of everything, from what to look for in a first horse and how to make sure the horse is fit for purpose.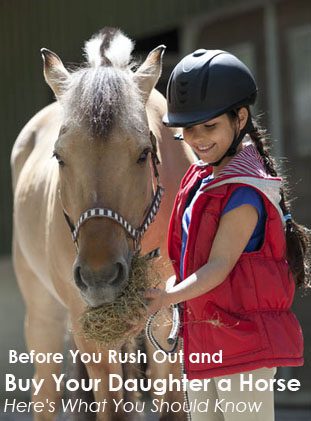 Unfortunately some people try to sell horses that have a whole host of health issues, and these horses will only cost you a lot of money and time in the long run – not ideal for a beginner. Read on to learn all about buying your daughter her first horse:
What Do You Need in a Horse?
You need to consider how your daughter will be using the horse to work out the kind of temperament you need. Make sure you're honest with yourself about your daughter's ability, as you don't want to end up buying a horse that is too much for her to handle. Also consider what you can afford and equipment you may need to buy. You'll need to find somewhere suitable for the horse to stay too, depending on your budget – find more information here. Make sure you go with your head and not your heart as this decision could affect your daughter for 20 years!
Never Buy a Horse Without Seeing it First
Never shop online for a horse. Some dealers on websites will sell horses with fake descriptions and you won't ever get your money back. By going to see the horse you'll have a much better chance of knowing your daughter will be happy.
Take Somebody Who Knows About Horses With You
Somebody who knows about horses can give you a second opinion. Plus, they'll be looking at the situation objectively so they may think of questions that you never thought to ask. They will also be able to help you handle any aggressive sales people!
Check the Horse's I.D
Make sure the passport matches the animal, as there are far too many cases where this is not the case. Make sure you also get the vet to check the microchip or check for removal of microchips. If the passport for the horse isn't available, we recommend you avoid.
Have The Horse Vetted
You should always have an equine vet of your choosing take a look at the horse to make sure it's fit for the purpose you want. This is regardless of the cost!
Check The Horse's History
You should always check a horse's history to make sure there aren't any underlying health or behavioural problems. Some dealers can be deceitful, so make sure you're vigilant. If you feel a deal is too good to be true, then you're probably right.
Make Sure the Vendor is Reputable
Do a little bit of research on the horse vendor to make sure that they have a good reputation on forums and with your friends.
Get a Written Receipt
A written receipt with all of the horse's details included, as well as your details and the vendor's details can help you should you need to make a claim down the line.
Above all else, consider whether you can give the horse the commitment it needs. You may keep this horse for a very long time, so it's important that you search carefully for the right one to get your daughter a great first horse!