Girl Gamers: They aren't Just A Myth
Think of gaming and you're likely to think of a poor boy sat in his mother's basement, in his pants, playing Call of Duty, an open packed of crisps beside him, and a stench that suggests he hasn't showered since level 3. That was four days ago.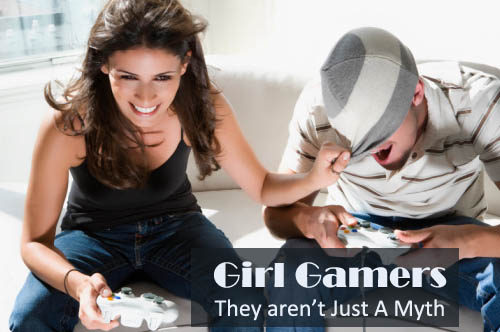 Of course, that's a huge stereotype, and one to simply prove a point. Gaming is a man's world. A smelly, slobby, man's world. Or at least so we thought…
You see, gaming is no longer exclusive to boys, and certainly not those sat in their pants in their mother's basement. No, it's opened up to everyone, men and women. And females are certainly taking advantage.
In fact, 48% percent of all game players are now female logging in to the likes of Candy Crush, Full Tilt, and other online communities, whilst console and mobile gaming are more popular than ever before.
What's further surprising is that adult females are in fact more likely to be button bashing than teenage boys – the market synonymous with gaming. Women over the age of 18 make up 36% of the market compared to boys under 17 who share just 17%.
So it's no wonder we're seeing more heroine's hit the small screen. The likes of Aveline in Assassins Creed: Liberation and Rochelle in Left 4 Dead 2 are reflecting the modern day gamer more and more – strong independent women. And that in turn is reflected in loyalty to the industry.
According to a study taken by Flurry, females spend more time and more money on mobile games especially, with women making 31% more In-App-Purchases than men, as well as 35% more time than the opposite sex.
The matter has been brought to serious attention in the past few weeks with the Kim Kardashian: Hollywood game having instant success making $700,000 per day in revenue causing many – including Forbes, CNN, and the New York Times – to brand the game an unlikely hit.
Which is simply not the case. Gaming has been popular for a number of years with women building up a love of gaming to the point when in 2010 40% of game players were made up of women and the same in 2008, and 2006.
Much of the industry need to wake up to the modern world. Girl gamers aren't a myth. There are millions enjoying a whole host of great titles. Real life Lara Crofts if you like. And with more and more female protagonists entering the fray, that number of female players will only get bigger.