What is Minddrive, and how is it helping children learn
Not all children are natural academics. Some children get overlooked in the traditional education system and as a result their desire to learn gets lost along the way. Now, thanks to an organisation set up of professional businessmen, engineers, and mentors,Minddrive is helping a group of high school students to realise their true potential whilst engaging in projects that may also help shape our future, the environment and commercial culture.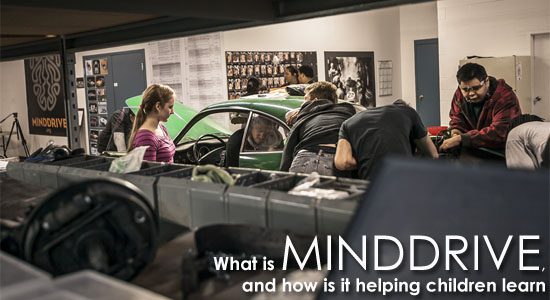 Corporate sponsorship is provided by the familiar names of:
With other major donors, contributors and partners, Minddrive has a solid foundation to nurture students through practical learning – and its fun! By using auto design and modern day communication the students learn in two fundamental ways. Studying on a primarily one to one basis, students take part in designing energy efficient vehicles that can run on plug in electric fuel. This incorporates the core subjects of Science, Math, Languages, and History mixed with facets of automotive design. Good news for the environmentally conscious world where fuel depletion is a growing concern. However, as web technology advances in an expanding media culture, students also learn how to write, design and use the internet to handle social media and web pages.
Electric powered cars may not be a new idea,but Minddrive combines these mentoring approaches and the result is a car that is fuelled by social media content. Through using social networking sites such as Facebook, Twitter and Instagram, the level of engagement is fed via a server and determines if electrical power is supplied to the vehicles fuel system to generate movement. If there isn't enough interaction on the social media pages the car remains stationary.
In 2013 the students took their vehicle, a modified 1967 VW Karmann Ghia on tour to present this innovative assignment and to educate others on the purpose of Minddrive.
By using the Minddrive program, students getting involved can realise their value in society, marking their worth as individuals, but also inform as a reminder that these same students may have been forgotten or dismissed by conventional education methods. In empowering these kids as real contenders in tomorrows hope, not just within their immediate communities, but on a global scale, has got to be in everyone's interest as we charge ever increasingly into the future.