Things to Know About Cars – 10 Tips for Women
The love for cars keeps growing in women with every passing day. As much as you love to use and flaunt your pet ride, there are some really important things to know about cars. Whether you're cruising the coast or tooling around town, use these smart auto tips to keep you on the right course: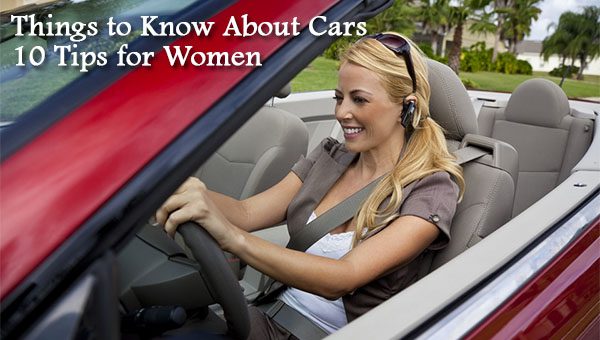 1. Best Time to Buy a Car
Can't wait to get that new car? Well, waiting for a little while just might be the smart thing to do. The best time to buy a car is in October or December. In October, dealers want to make room for new models, so they are eager to unload last year's styles. Then in December, since they are trying to reach end-of-the-year quotas, they are more likely to be flexible with the price. As they say, patience is a virtue-and in this case, a value!
2. Buying vs. Leasing a Car
To buy or to lease, that is the question. Here are a few things to keep in mind: when leasing, you must have an above-average credit rating, whereas if you're financing, you can get away with a less-than-perfect rating. If leasing, you are required to keep your auto in pristine mechanical and physical condition, and there may be restrictions with yearly mileage. If you buy it, you can maintain it any way you want. And if it's for business, it's best to lease it since you'll only have to pay tax on monthly payments, instead of the entire price.
3. Test Driving
So, you're on the lot staring at the car of your dreams. Now what? Before you sign along the dotted line, take the car out for a test drive. Make sure that it matches your driving requirements by trying a variety of situations. A minimum of 30 minutes is recommended to experience a full range of everyday driving situations. Drive it on the highway to see how it accelerates, and also through town to gauge how it stops and starts. And don't forget to try parking the car, which most people forget, to see how it maneuvers.
4. Know Your Credit Report
Heading to the dealership to purchase a new car? Think ahead and bring along your credit report. This will help make sure you get the best interest rate available. There are three major credit reporting agencies to choose from: Experian, Equifax and Transunion. For only $35, the best thing to do is to get a 3-in-1 report and score. This will let you know how all three agencies show your credit history. According to carbuyingtips.com, your goal is to get a score greater than 680, or you'll pay a high APR. Try to make a habit of checking your credit once a year. Click our link to get your score.
5. Organize Your Car
Want to drive away from clutter? We've found ways to organize your car for expediency and safety. Keep your hands free as you drive with a cell phone speaker/microphone combination that attaches onto the back or your headrest. Or, use a non-slip dash mat to make sure your sunglasses, map or phone all stay secure in one place. Then, keep your coat from getting wrinkled during your daily commute with a convenient and compact folding coat hanger. We've got the goods!
6. Shopping Around
If you want to get the best deal on a new car, be sure to do your research first. Visit auto-pricing websites such as CarsDirect or Autoweb, that will give you all the tools you need for making an informed buying decision. Discover the best autos out there through reviews and ratings. Explore competitive prices, sneak previews of soon-to-be-released autos, top 10 lists, fuel efficient best sellers, great financing rates and even get a "lemon check" to protect you when buying a used car.
7. End of Lease
At the end of your lease? Handle all matters with the leasing company who owns your vehicle and not a dealer. According to leaseguide.com, there are many factors involved, each being specific to your deal. If you return your car, expect to wait six to eight weeks for your security deposit. If you trade it, make sure the dealer handles it as a purchase from the lease company, not as a return. And if you purchase it, notify your insurance company in the change of ownership and have the title put in your name. To determine which option is best for you, do your homework and invest in an easy-to-use Lease Kit.
8. Insurance
Got the car? Now you need insurance. If you're shopping for a good insurance rate and want to obtain accurate quotes, it's important to know what's on your driving record. Carbuyingtips.com suggests that you get a copy of your driver's license record. Quite often, errors in driving reports will drive insurance rates up. Sometimes a paid traffic ticket won't be credited to your driving record. So, if you've gone to driving school or had to pay any fines, keep the receipt until you renew your license.
9. Trade In
Are you ready to get rid of that old hunk of junk for a shiny new vehicle? Before you trade it in, get the Blue Book value for your car. Visit trusted online resources for fair appraisals. And be sure that buying a new car and trading in your old one is treated as two separate deals. To get the best value for both automobiles, agree upon a price for your new one before you let them know that you have one you want to trade in.
10. Things to Know About Cars – Care and Maintenance
Don't be stranded on the side of the road with an overheated engine! Keep your car in top shape with regular maintenance. According to AAA, this will help retain its dependability and can prevent future high-cost repairs. Check your vehicle's owner manual for mileage intervals at which maintenance should be performed. Yet, know that climate and commute differs for everyone, so your schedule may need to be tailored specifically to your lifestyle.