Valentine's Day Table Setting Ideas
Valentine's Day is a day to honor the most heartfelt sentiment ever – LOVE. And everything today must be spectacular! When you plan to end (or begin) your day with a lovely Valentine's Day dinner, you need to ensure that the table looks as romantic as your mood.
Think roses, hearts, candles, red napkins and plates. DotComWomen.com gives you some beautiful ideas for setting a lovely table for Valentine's Day and any other romantic occasion in your lives:
Roses for Love
Nothing says 'LOVE' better than roses. Start with white table linen and china and then go the classic way and adorn each place setting with a long stemmed rose and spread rose petals all around it.
A large rose at each table setting makes a bold statement and co-ordinates with the red base plate.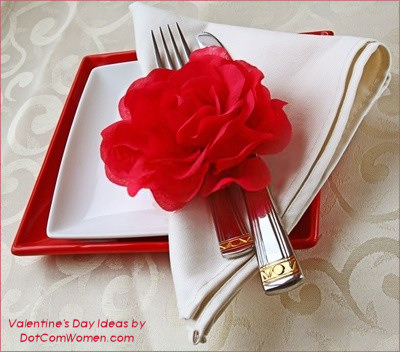 Red Hearts
Is there a better symbol of love? Use red heart-shaped ornaments at each place setting to co-ordinate with the red napkins and candles. A sprinkling of red heart glitter confetti will add some sparkle and glistens beautifully in candle light.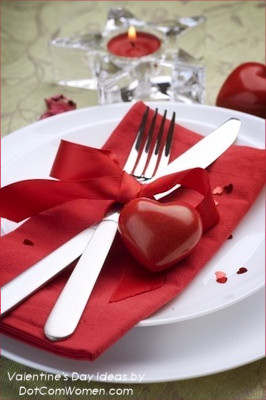 Heart Shaped China
If heart-shaped dinner plates aren't your style, you could still use the shape for any other course. Dessert, for example, is naturally romantic and looks beautiful served in heart shaped plates.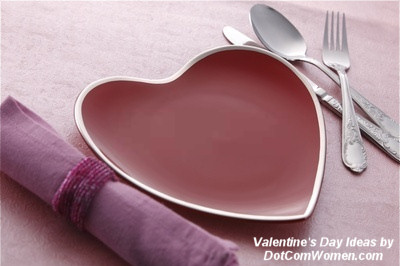 Gift Wrapped
'Gift' him your surprise dinner! The gift wrapped dinner plate looks beautiful with a gift bottle of champagne, tiny wrapped gifts and more curling ribbon and confetti.
Lilac is Romantic
Break away from the traditional red and go in for other romantic hues like the lilac shown here.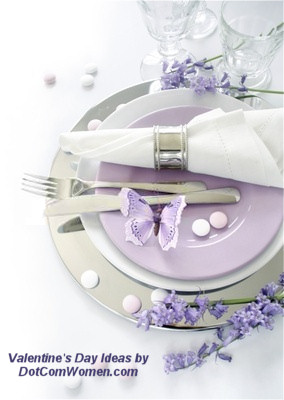 Heart shaped Napkin Folding
Fold dinner napkins in the shape of heart to create a simple and instant Valentine's Day look at your dinner table.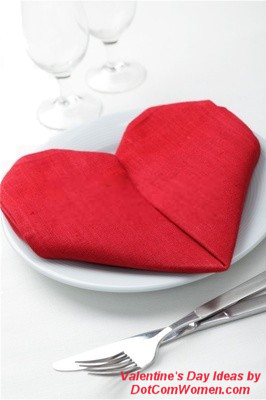 Try doing this step-by-step on paper first to get a hang of it. Crease the edges for a smooth finished look.