Welcome home your Valentine with some romantic decor for Valentine's Day with candle lights. Use candles in creative ways to pep up your home for the day of love. Dotcomwomen.com gives you some ideas:
Group Red Candle Holders
Nothing says romantic more than the color red. Mix and match different candle holders in red and place on a mantle or a side table for a classy decoration.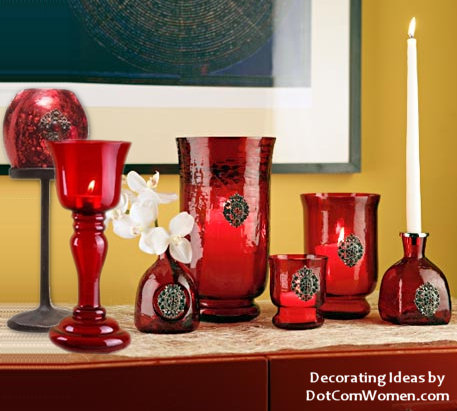 Red Hearts and Candles
We love this candle holder! Place it in any corner and watch the ruby-red glass cups light up your room with a beautiful glow for Valentine's Day.
You can buy this  Heart Tealight Candleholder for  $11.95 online from OnlineDiscountMart.com
Spell Your Love
Spell it out with a 'LOVE' text red candle.
Love Figural Candle – $8.95 from: OnlineDiscountMart.com-Home and Garden Decor