Use Throw Blankets – 8 Ways to Perk Up Your Rooms with Accessories
A Brightly Colored Focal Point • Decorative Pillows • Lamps • Displaying Accessories • Picture Frames • Bright Rugs • Throw Blankets • Color Scheme
Throw Blankets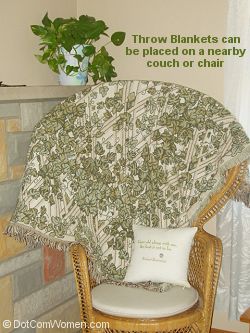 Another great way to accent a room is by using throw blankets. Select a few focal colors from a painting or the area rug in a room and match throw rugs to those colors.
These throws can be placed on a nearby couch or chair and can even just be folded and staked in the corner for use when visitors get cold.
You may want to consider placing a few throw blankets in a basket near the fireplace to enhance the feeling of warmth and vibrancy in a room.
Next > Color Scheme