A Brightly Colored Focal Point • Decorative Pillows • Lamps • Displaying Accessories • Picture Frames • Bright Rugs • Throw Blankets • Color Scheme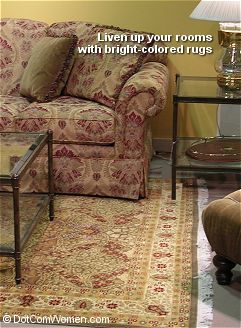 Bright Rugs
Even if you have a carpeted floor, the right bright rug can bring into play your focal colors or can even create the focal colors for your room.
Consider using a throw rug under a coffee table or in front of a favorite chair. You can scatter smaller rugs in multiple places for a warming effect as well.
Place one at the entrance to the room, another in front of each chair and in other places to add color as well as texture to the room.
Next > Throw Blankets