Tiered Pumpkins Centerpiece for Thanksgiving
Turn pumpkins into candle holders for this tiered centerpiece.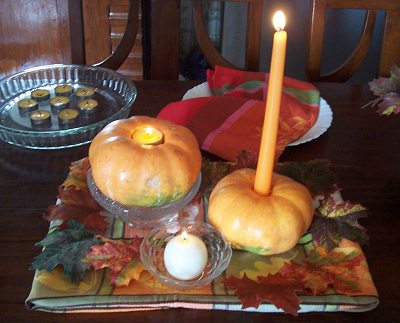 You will need:
1. Two small pumpkins
2. One orange colored tea light candle
3. One orange colored taper candle
4. One small white colored round ball candle
5. Tools to hollow the pumpkin from top (a small sharp knife will do)
6. Two clear glass bowls
7. One clear glass saucer or small plate
8. Fake fall leaves
9. Flat Tray
10. Dish cloth with fall motifs
How to: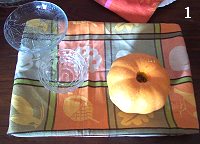 1. Make a round insertion at the top center of one of the pumpkins and scoop out enough flesh to place a tea light candle. A small sharp knife will do the trick.
2. Take the other pumpkin and make a similar hole that can fit in a taper candle.
2. Place the flat, rectangular tray on the center where you would like your centerpiece to be. Cover it with the fall themed cloth.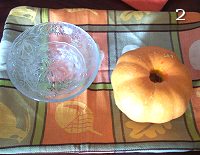 3. Place a clear glass bowl on the tray towards the upper left corner as shown in Figure 1.
4. Place the clear glass saucer on top the saucer and center it perfectly. See Figure 2.
5. Place the first pumpkin on top of the clear glass saucer and place an orange colored tea light in it. See Figure 3.
6. Place the other pumpkin towards the lower right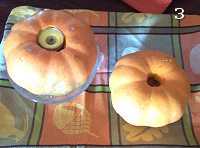 corner of the tray and fix a taper candle into it. If you hole is wider than the candle and the candle is not standing straight, use some of the scooped out pumpkin flesh to hold the candle in place.
7. Place the second clear glass bowl as shown in the image above and place the white ball candle in it.
8. Spread fake fall leaves on the tray.
9. When you are ready for guests light the candles.