Thinking of Renovating your Property? Everything you need to know
A property is a significant investment and in order to protect, or hopefully grow, that investment it is often necessary to spend money on it. Renovations can help breathe life into tired unloved homes.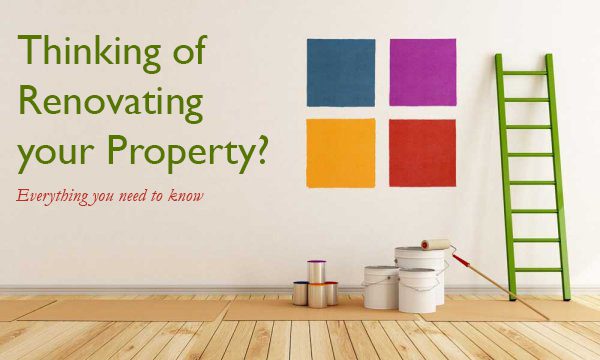 It's also often possible to spot stunning houses on property listings sites that could be worth even more with a bit of work. It's the job of a renovation project to tap into that potential and add value to your bricks and mortar. In these cases it's best to assess the value of a similar home in a well-maintained condition to help weigh up how much the home could be worth. If the cost of the home and renovation together comes well below that potential then you've unearthed a lucrative investment project.
So, whether it's giving love and attention to an existing property, or adding value to a new home, here's what to look out for in your renovation scheme…
Project manager
The best renovations need to be handled by experienced professionals who can conduct them with rigour and a business-like approach. Your scheme needs to have targets and performance monitoring and you need someone to take the management of this process off your hands. Hiring a project manager will ensure you have someone on your side who can identify and liaise with qualified, quality tradesmen – the right team is essential, especially for specialist tasks – and ensure the work is carried out on time, on budget and to the required standard.
Planning permission
Your project manager will be able to help to identify whether or not aspects of your renovation require planning permission – something that is likely to be needed for works to extend or alter the external part of the building. It's vital that you familiarise yourself with the rules and regulations and comply with the rules. This will involve dealing with your local council and can be time consuming, so it's best to apply for it as soon as you possibly can.
The planning authority will normally be a borough or district council in a two-tier system or, alternatively, your unitary council. The rules may be tighter in a Conservation Area, for example, so check if your property is within such an area and explore the ramifications of this before you make your plans.
Listed
About half a million properties in the UK are listed – and this is a badge of honour that adds to their appeal and value, reflecting their part in the rich tapestry of the county's history. It's not impossible to renovate a listed property but it will require extra care and attention – and might involve input from English Heritage.
Add value
It's imperative that the time and money spent on your property investment bear fruit by adding value to your housing asset. With that in mind it's important to assess your plan to make sure that the work you are carrying out is of benefit. You want to take the raw material you have and enhance it – not add weird and wacky additions that cost a lot of money and do not attract buyers in the long run. Focus on the practical first – with kitchens, bedrooms and living rooms – before moving on to the icing on the cake with fancier additions.
With a skilled team of experienced people working towards a clear, well-defined plan it is possible to deliver a renovation project that pays dividends in the long run. If the job is worth doing then it is definitely worth doing well.