Thanksgiving Decorating Project: Window Curtains
This style of curtain can be used with any holiday by getting a coordinating color and then accenting it with a few simple, but festive items.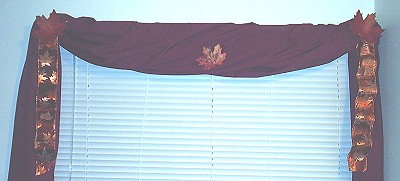 What you will need:
1. A two-yard piece of fabric in a solid color that will match your other Thanksgiving décor. 2. Pins 3. Curtain rod (if you don't already have one) 4. Fake Autumn Leaves 5. Autumn themed wire edged ribbon
Directions:
1. Create a simple no-sew swag by gathering the fabric at the center point.
2. Put one end through the curtain rod until you reach the center where you are holding the gathered material.
3. Make sure that the fabric is in the center of the curtain rod.
4. Wrap the fabric around the rod completely.
5. Then wrap the fabric around the curtain rod at each end.
6. Arrange the fabric so that none of the curtain rod is showing.
7. If needed you can pin a couple of spots on the fabric to keep it in place.
8. Get two identical fake leaves and pin them to each corner.
9. Cut the ribbon into equal parts.
10. Pin the ribbon onto the curtain underneath the two corner leaves.
11. Create waves in the ribbon by bending the wire slightly, at irregular intervals.
12. Pin a large leaf in the center of the swag.
Your festive curtains are complete. Another option is to hang an autumn garland from the corners of the curtain.