Thanksgiving Centerpiece Ideas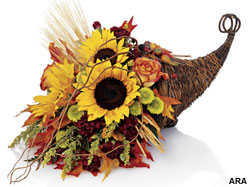 (ARA) – Traditionally, fall is a time for rich and beautiful colors, refreshingly crisp air, hay rides, bonfires and the kick off of a festive holiday season. Creating a warm and welcoming ambience that will carry you through the Thanksgiving season can be done with style and panache using creatively designed and artfully placed floral decor held in containers created from traditional harvest pieces like pumpkins and gourds. And it's easier to do than you might think. So when you send out your Thanksgiving eCards, make sure you have an awesome centerpiece to drop the jaw's of your guests.
Floral decorating — for any season — is a nationally developing trend. Flowers are aesthetically attractive, fragrant, colorful, and add natural beauty. And the social activities and celebratory mood that signify autumn's arrival present an excellent opportunity for showcasing your home with flowers. Here are a few ideas from FTD that will give your home a warm and welcoming atmosphere.
Pumpkins Make Delightful Centerpieces
Using gourds, pumpkins and other harvested items as containers for fresh flower arrangements has appeal for the table in the form of a centerpiece, or in the form of darling miniatures that can serve as place card holders and guest take-aways at a dinner party.
For the centerpiece, first go to www.FTD.com to find a local FTD florist. The florist will help you to choose a fall bouquet filled with autumn's most brilliant blooms. Some ideas for flowers to include are: Orange Asiatic Lilies, Butterscotch Cushion Pompons, Mini Carnations in burgundy, Sunflowers and deep purple Statice. Accent this arrangement with curly willow branches, eucalyptus, wheat stems and leatherleaf. Next, take a medium-sized pumpkin and remove the top portion containing the stem much as you would when carving your Halloween jack-o-lantern. Before you begin inserting the flowers for your arrangement, you'll also want to insert a floral foam block, which can be found at any garden store. Within minutes, you'll have an original and fragrant accent for your autumn table.
Pumpkins and Gourds as Enchanting Miniature Place Card Holders
Miniatures are enchanting, and these dinner party place card settings are just as easy to create as the pumpkin centerpiece. The will also serve as lovely take-aways for your gracious guests. Gerbera daisies in deep autumn colors, tightly bound Pompons in Kermit green, muted yellow rose buds or single Asiatic Lily stems in full bloom are more than enough to fill a delicate small gourd or mini-pumpkin with a fragrant and welcoming message. Much like the centerpiece, you'll need to remove the tops of the containers with a sharp knife; be sure they balance well on a flat surface. Cut the stems of the flowers you choose to use so they fit within the container, and feel free to use small sections of floral foam to help hold your mini-arrangement in place.
Fashionable Flowers in the Hottest Fall Colors
This year's trendy fall colors ignore the traditional bright oranges and dull browns and embrace colors in burnt and muted tones. You can expect to see mustards, sages and chartreuse with dark and rich red wine colors that substitute for the traditional dark browns. Some exciting flowers you can use to bring these tones into your arrangements include: Gerbera daisies, yellow alstroemeria, and bronze pompons accented with hypericum, solidago, yarrow, Asiatic lilies, russet roses, daisies, button and chrysanthemums.
Courtesy of ARA Content