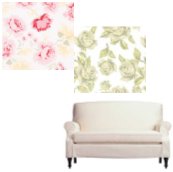 The summer heat calls for décor that is cool, fresh and casual. This is perhaps why Shabby Chic ® achieved immense popularity predominantly in the west coast. Shabby Chic ® a phrase coined by Rachel Ashwell, a British designer-turned-Californian hit big in the 1990's. Till recently Shabby Chic ® was the sizzling trend with retail stores, television shows, books, merchandise and designers enthusiastically focusing on this décor. Currently, the euphoria seems to have passed but this style is still very much appreciated and demand remains strong because it is a thrifty look, not requiring to spend thousands of dollars. This type of design theme is synonymous with white. Think Shabby Chic ® and what come to one's mind: flea market finds, rose pattern china, distressed white furniture, pastel floral, white furnishings, white crisp drapes. You are right; the above elements define and bring together the look. The popularity is perhaps because it is most easy to accomplish with limited budget and time. This décor is not only comfortable but also easy to maintain specially with kids.
Create A Clean Bright Inviting Room For Summer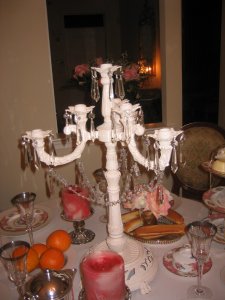 You decide you want your room to have a clean, laid-back look, which is remarkably versatile and easy to live with. Start with furniture; use mostly white furniture pieces that are widely available in retail stores like Pottery Barn, Pier One Imports, Wal-Mart or can even be easily located in flea markets or thrifty antique stores. If budget restraint is holding you back, you can utilize pieces that may be ready to be discarded; simply paint them white. The paint transforms an old piece providing a clean fresh appearance. Do you have a couch that looks worn out? Easy fix; use white slipcovers extensively available at most discount stores. The slipcovers can be machine washed thus preventing anxiety with spills and other accidents
Keeping with the theme, accessories need to be distressed or white. Lighting like a Lafayette distressed white sconce not only adds additional light to the room but also creates a warm cozy feel. To create a romantic ambiance, use a number of candles and lamps. Look for candleholders, ornate candlesticks painted white with bits of the old iron finish that characterize this decor. The sconces, candleholders and many other distressed white high quality accessories are available at www.exquisiterugs.com retailing from $45.00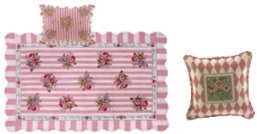 Add color and break monotony by using a needlepoint rug with pink shades as shown in the image. The flowers on the needlepoint rug provide a pattern. Throw some pillows on the couch that complement the rug .The rug and pillows can be a pale color palette. Both are available at www.exquisiterugs.com. The primary color is white with dashes of pink pastel colors. However, instead of focusing on pink or any other pastel soothing hue as a secondary color you can integrate other colors, or even combine stripes or paisleys.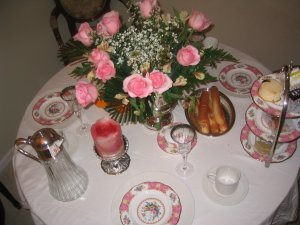 Finally, the alluring look is never complete without fresh flowers. Every one loves the appearance of attractive flowers, or the smell of sweetly, fragrant ones. Pick some fresh pink roses from your local grocery store and place them in a glass bowl. Flowers are inviting, enchanting and moreover pleasing to the eyes.
This décor is casual yet inviting and can be accomplished inexpensively. Enhance this look with pillows and candles adding lots of home accessories. Create a comfort-zone environment to reflect your personal style and have your family and friends enjoy the fresh décor all summer long.
This article Copyright ©2004 – Tasneem Mirza. Reproduced with permission.
About the Author:
Tasneem Mirza is the Managing Partner of Exquisite Rugs LLC. and member of AWBA, NJWA and Beta Gamma Alpha- honors society for business students. Under the leadership of Tasneem Mirza, Exquisite Rugs launched in April 2002 has gained increased recognition. Tasneem Mirza has indebt knowledge of the rug industry. For questions related to rugs or Exquisite Rugs products please feel free to contact her. To Contact Exquisite Rugs: Website:ExquisiteRugs.com