Spring/Easter Garden Wreath – Easter Decorating Project
Celebrate spring indoors by adding elements of a lively spring garden along with Easter flowers into a gorgeous satin ribbon wreath.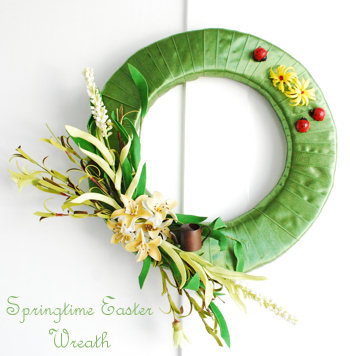 Materials:
12″ straw, styrofoam Wreath 2 yards forest green satin ribbon, 1 inch wide Artificial Greenery stems 5 Artificial lilies 2 Artificial flowers – yellow or white Miniature rusty tin can (we used Darice's accents) Miniature wooden ladybugs (we used Darice's accents) Pins and Foam Glue dots
Directions:
1. Roll the satin ribbon over the wreath form covering it completely. Use pins to secure both ends of the ribbon into the styrofoam. Push the pins in a slanting position so they do not pop out from the front. 2. Tape (gluing will spoil your ribbon for future use should you want to dismantle the wreath) greens at the bottom left of the wreath. 3. Push pins through the lilies and insert them into the wreath form over the greenery. 4. Use glue dots to stick the watering can. 5. Push pins through the centers of the flowers and insert them diagonally opposite the greenery at the bottom. 6. Use glue dots to stick ladybugs around the yellow (or you may use white) flowers.
This fantastic wreath cheers up any room with its beautiful spring look.