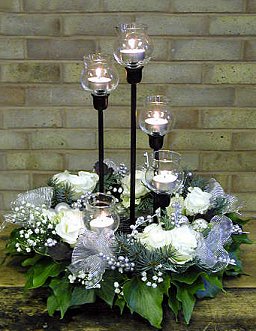 For this design we have used a floral foam wreath ring. The outside of the wreath is edged with Hedera helix (Ivy) leaves, and the inside with white sisal, then covered the rest of the ring with groups of different types of foliage, this being Thuya, Picea pungens, and Heuchera "Stormy Seas", as well as more Hedera.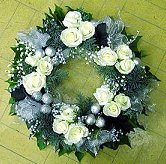 Then five silver bows and five groups of three white Roses have been added. Some Gypsophila give added texture, and small pieces of silver twigs add a festive touch.
Finally, some groups of small silver baubles have been added. Add a candelabra with five white tea lights in the centre of the wreath.
This design can be used as it is as a table centre, or hung as a wall or door wreath as seen below.