Santa Clause themed Outdoor Christmas Decorations
Create kid-friendly outdoor displays and please all the kids with sights of their beloved Santa Claus this Christmas. With some simple yet creative ideas, you can decorate your outdoors for kids of all ages by choosing a 'Santa Claus' theme.
Santa Climbing Up Your Window
Hang a large stuffed or blown-up Santa from your window using fishing line or better yet, a rope. You don not need to hide the rope because even Santa needs something to climb up. The rope will only add to the decor. If your Santa figure doesn't already have already have a gift sack, be sure to add one! A garbage bag can be stuffed with fallen leaves to make the sack.
Santa Sliding Into Your Chimney
Place a Santa figure like above, on or into your chimney, so that it looks like Santa is halfway into the chimney. Keep the sack (as made above) outside in clear view.
Santa by an Outdoor Tree
If you are considering putting up an outdoor Christmas tree, add an inflatable Santa to the decorations by the gifts.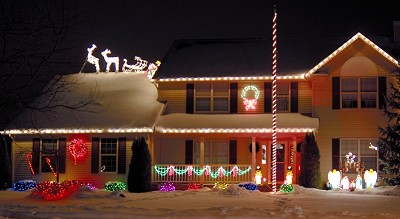 Santa's Sleigh Lights Display
If you are into light displays, try doing something new. Instead of the usual Santa's sleigh in your yard, place the sleigh display on the top of your roof securing firmly. The display will be seen from far off.