Rustic Blossoms Fall Wreath – Fall Decorating Project/Idea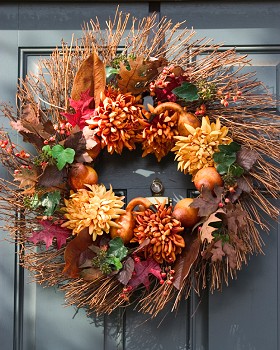 Supplies Needed:
1 spiky, thin twig wreath as shown
Assortment of silk leaves
Aster blossoms (preserved or silk)
Decorative gourds
Hot glue gun
How to:
This lovely fall wreath looks complex but is so easy to make! First, apply a dab of hot glue to the backs of your silk leaves and place them on the inside area wreath, leaving about two inches of the outer base empty.
Next, use hot glue to secure your aster blossoms around the center ring of the wreath, leaving a little space between each one. For the finishing touch, use the glue to add small decorative gourds and pumpkins between the blossoms. At this point, take a look and add extra leaves if you feel they're needed. Allow the glue to dry, and you're done!