Pumpkin & Floating Candles Centerpiece for Thanksgiving
Float candles around a small pumpkin to make a simple and elegant centerpiece for your Thanksgiving table.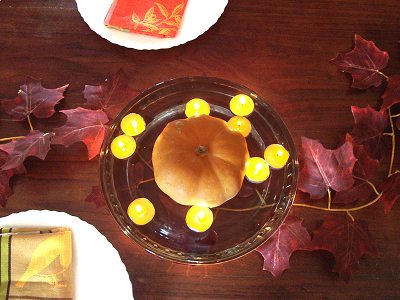 You will need:
1. One small pumpkin 2. 8-10 orange colored tea light candles 3. Clear glass fluted pie dish 4. Fall leaves table runner (optional)
How to:
1. Place your table runner on the table. 2. Place the clear glass pie dish on the center where you would like your centerpiece to be. 3. Place the pumpkin in the center of the pie dish. 4. Fill the dish with water by carefully pouring water into it with a jug, taking care not to spill any on the table. 5. Float the tea lights in the water. 6. Wipe away any spilled water. 7. When you are ready for guests light the candles.
Variation: If you wish, you may leave the candles unlighted or use other objects for floating (like fall flowers, dried or fake flowers and leaves etc.). In this case, you can add some fake fall leaves around the pumpkin without the danger of the leaves catching fire.
In the picture below, the pumpkin is raised to a height by placing a clear glass saucer upon a star-shaped cookie cutter which is placed in the center of the pie dish.