Pumpkin and Fall Leaves Centerpiece for Thanksgiving
Pumpkin and Fall Leaves Centerpiece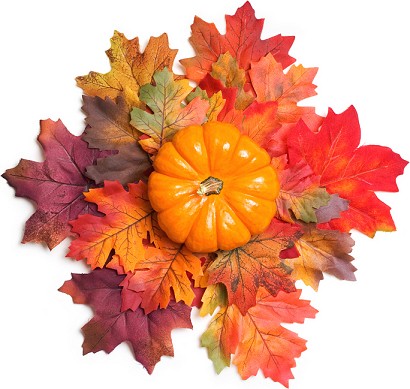 The plant material used to make this centerpiece is very easy to gather during this season. Colorful fall leaves and a pumpkin is all that you need to make this easy decoration. This centerpiece will remind you of the beautiful autumn season which brings along with it the wonderful holiday of Thanksgiving.
You will need:
a flat, round plate

fresh or artificial fall leaves

fresh or artificial pumpkin
How to:
Clean the leaves and pumpkin by washing them under running water or wiping them with a damp cloth. This will remove the dust settled on them and make them look gleaming.
Arrange the fall leaves on the plate. Glue them to the center if necessary. Place the pumpkin on top of the leaves in the center.
You can also hollow out the pumpkin from above and place candles or flowers in it.