High drama prevails with this exquisite arrangement of long-stemmed roses in a champagne glass. A stylish, romantic evening calls for such an arrangement where you can pull out all the stops and create a dramatic flower arrangement. The tall slender flute and the long-stemmed roses all give the arrangement a height which is not only visual. Place the arrangement in a safe place to avoid knocking it over.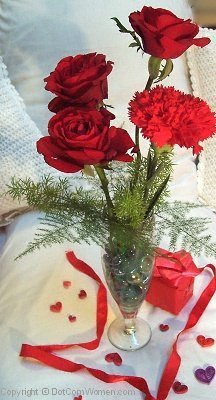 Step-by-Step Instructions:
1. The general impression of this flower arrangement is height and drama. So you are free to pull out all the stops and let yourself carried away. To get things going, start with a champagne glass for the container. If you feel uncomfortable using it, you can choose any tall, slender container.
2. Arrange three long stemmed roses at varying heights and a shorter-stemmed red carnation in the narrow-mouthed glass. The carnation breaks the monotony of the dark red roses. Since the glass has a very narrow mouth, it will not be difficult for you to hold on to the flowers in the arranged position till you complete the next step.
3. Fill 2/3 of the glass with decorative green marbles. Once the marbles are filled in, your flowers will stand very well without any support.
4. Add fillers ONLY at the rim of the glass creating a 'bower'. Do not add any tall stemmed foliage. Let the roses stand high in air and lend the arrangement its height.
Note: This arrangement stands tall. No attempt needs to be made to hide the stems of the blooms. Shape the foliage at the rim of the tall container as a 'bower'. The roses and the carnation will seem to be growing tall out of the foliage cluster at the bottom. Do not use red marbles to fill the glass as they will seem out of place when followed by greenery.
Content Copyright © Dot Com Women. Do not reprint in whole or part without express permission.