Pink Christmas Tree Theme – Christmas Tree Themes & Color Schemes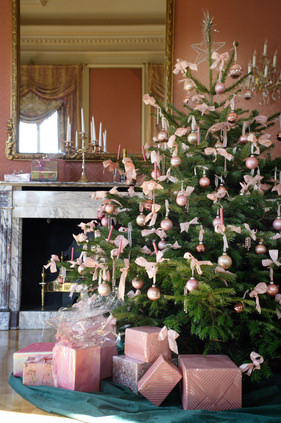 Pink is the hot new favorite for Christmas decorations. Use jewel tones to set your pink Christmas decorations apart from the pastel pinks of Spring.
What you can use:
Jewel-toned pink ornaments
Pink ribbon to tie each ornament to the tree and to make bows
Pink lace for garlands
Wide White Ribbon
White Lights
Silver/White/Pastel Filler Ornaments
Handmade Ornaments
Buying clear ornaments and painting them using the lovely jewel pink toned paints available at craft stores is an easier option than hunting for pink ornaments.
Extending Your Theme to the House
Wrap gifts in pink wrapping paper, hang pink stockings, make a wreath using pink tinsel or pink and silver garlands, use pink candles at tables and make use of shades of pink when selecting fabric for the table and the cushions.
More Christmas Tree Themes:
'Red Hot' Themed Christmas Tree
White & Gold Theme Christmas Tree
'Golds and Reds' Theme Christmas Tree