Outdoor Christmas Decorations…For An Apartment
So, Christmas is just around the corner, and you're sitting up in your apartment, wondering how on earth you can possibly decorate your door. Most people stick with a wreath, or not even that, because many apartments have rules against putting a nail, or tack in the door.
For people who live in an apartment with a balcony, it can seem a little silly to put decorations, or lights out there. Well, why not? Who knows, if you get it done early enough, the rest of your building might join in. There are ways to make your apartment just as beautiful on the outside, as it is on the inside this Christmas season.
Door Decorations
Wreaths
There are a couple of things you can do with your door. The first of course, is a nice wreath. But if all you're going to do for your door is a wreath, go to the florist, and get a really nice, custom made wreath. Select flowers, or poinsettia. and other bright colors for your door. Or, if you'd prefer, go to your favorite crafts sore, and collect your own supplies to make a wreath at home. For an easy wreath, just pick up the circular frame first, and choose some decorative silk poinsettia– which sometimes you can find with glitter around the edges, really making your wreath stand out, plastic holly, and tiny gold or silver Christmas ornaments. Weaving the wire stems of the poinsettia and holly into the wreath is easy, but use a hot glue gun to stick on your ornaments here and there. When you're finished, spray on some glitter, found in aerosol cans at hobby stores, and let it sit to dry for at least a couple hours, before hanging it on your door.
If your landlord is a stickler for stuff that doesn't leave marks, don't use that sticky clay stuff that's advertised around this time of year. It peels the paint right off of any surface, and whatever was hanging from it falls. Instead, try to find Scotch brand wall adhesive; it comes with little hooks, and the adhesive peels off, and sticks to the wall. You can hang a wreath easily with this, and when you're ready to take it down, just peel it away slowly.
Garland
Another way to brighten up your door, is instead of just going with a wreath, get a length of fabric or silk ivy, –not spruce; spruce just doesn't fill space as well. Weave a few silk poinsettias into your ivy, and make sure it's long enough to go completely around your door frame, and if possible, measure your door before hand to know how much ivy you'll need. Afterwards, pick up a string of white lights, of green, -green looks especially nice if you're using white poinsettias in your ivy, –and weave your lights around and around your ivy. After you've finished this step, you're ready to put your decorations on your door frame. Use regular clear tape, preferably wide clear postal tape. Scotch tape will come off, and masking tape is too tacky; if your landlord doesn't mind tiny holes, just use a stapler. The great thing about this decoration, is that it looks gorgeous whether illuminated, or in the daytime.
Balcony Decorations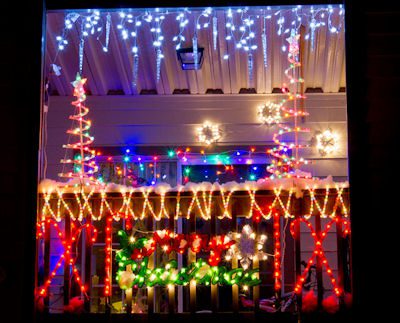 Decorating your balcony is easy as well. Use the ivy and poinsettia with lights around your railing, or you could just put up the lights. White lights are usually the best choice, if you're not sure which colour you want to choose, but red and green are equally seasonal and look great. Don't forget, if you get your lights up early enough, the rest of the building is more likely to participate in hanging their lights too. If not, well, at least your guests will know which apartment is yours!