New Styles for 2014 in your Home
A change of year can encourage people to change the design of their home too. In 2014, there are many directions you can take your style amendments, be it to keep up with the latest trends or to produce a more vintage feel. Consider which style will suit your home in the new year and how best to implement these ideas.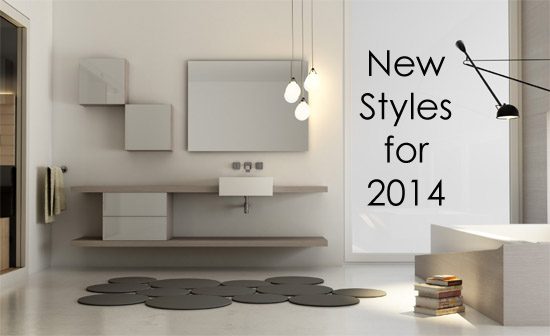 Colour
Numerous websites tell us which particular colour schemes will be fashionable in the following season or over the coming year. Realistically, most people won't be looking to change the colour of their carpets, walls and furniture on a regular basis just to tie in with a particular trend. Instead, some designers suggest staying more neutral in your main colour scheme as a way to reduce risk.  Think of whites and soft greys as a good starting point and then blend them with trendier accents of lime greens and crimson.
Personal Touches
Some homemakers may be so obsessed with the latest trends that they forget about their own interests and design ideas. The idea of personalization is becoming stronger and stronger for more people in 2014. Your home should be testament to you and your loved ones so introduce family pictures and holiday memorabilia as a way to create a personal atmosphere. Any art should be original also, along with ornaments placed on the mantle or tables.
Smaller Spaces
If you have a smaller sized home, look towards storage furniture as a great practical and stylish solution. There are many items available on the market that double-up in this manner, leaving you more space to decorate other parts of the home. Sofas with pull-out drawers or loft beds with fitted wardrobes are good examples. Look out for soft wood designs as a way to create a pleasant yet durable atmosphere in the room; these can be balanced with more delicate flowers, vases and ornaments around it.
Walls
Being bold with your wall space is proving popular in some quarters. Using bright and standout colours, such as yellows or blues, can really transform a room from a more traditional appearance. However, using whites and open spaces has become fashionable also. Instead of looking unfinished or plain, they actually present a clear palette for you to plan the rest of the room by. They can also amplify the effect of art paintings or large mirrors. If you go down this route, use colourful furniture items and rugs as a way to balance out the room in a beautiful fashion.
Minimal
Of course, with a new year and what seems to be an endless amount of furniture items available, it can be tempting to overbuy and cram a room full of possession. You shouldn't clutter too much, only making room for the essential items. If you use plain or neutral coloured walls then counter this with a prominent sofa or television to prevent the room looking stagnant. Buying fewer items also allows you to splash out on the more important ones remember.
Sources: