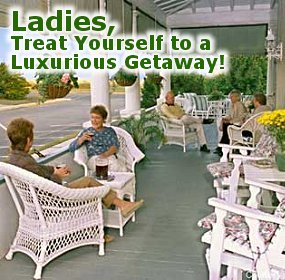 (ARA) – Do you feel overworked and underpaid? Are you longing for respite from the rat race of life? Good news, ladies: you don't have to spend a fortune on a trip abroad to get away from it all. Chances are you'll find the escape you need at a bed and breakfast near you.
According to the Professional Association of Innkeepers International (PAII) 2000 Industry Study of Bed-and-Breakfast/Country Inns, there are more than 19,000 professionally run, fully licensed B&Bs in the United States alone.
"Bed and breakfasts give you personal pampering with a generous helping of local flavor," says Randy Fought of Bed & Breakfast Inns ONLINE (BBOnline.com), one of the nation's most visited Internet sites devoted to independent inns. "Our member innkeepers provide women with a wide choice of activities, from classes in crafts and cooking, to spa treatments, to the rare pleasure of doing absolutely nothing without feeling guilty about it."
Here is just a small sampling of the special packages BBOnline member innkeepers have created this spring with women in mind:
At Honeysuckle Acres Bed & Breakfast in Winnsboro, S.C., ladies can choose the "Girls Just Want To Have Fun Special," which invites groups of four to hang out together, or add an optional activity like aerobics, flower arranging, art or cooking classes. You can find more information about this inn and hundreds of others offering Ladies' Getaway Specials at http://www.bbonline.com/ladies.html
If you're into cooking, The Red Maple Inn, located in Spencer, Mass. offers themed world cuisine workshops like "A Night in Madrid," where you can learn to prepare such Spanish specialties as paella, tapas, gazpacho and flan. See all the latest Cooking School and Workshop packages available throughout the country at http://www.bbonline.com/cooking.html.
Crafts of all kinds are a perfect match with a bed & breakfast getaway. BBOnline's member innkeepers have posted dozens of specials for collectors, scrapbook makers, quilters and more. The Deer Lake Bed and Breakfast in Boyne City, Mich. for example, hosts a jewelry class in which guests create their own 14K or sterling silver ring, under the skilled eye of innkeeper Glenn Piepenburg. For more entertaining and instructive workshops on a variety of crafts, visit http://www.bbonline.com/crafts.html.
If you yearn to renew your mind, body and spirit, you may want to take advantage of a bed & breakfast healing and wellness special. The Gaige House Inn of Glen Ellen Calif. offers one that's typical of upscale inns. Guests can relax and get a sense of peace — less than an hour from San Francisco — with Esalen, Watsu and other massage techniques applied in room or poolside. To browse more than 160 Healing and Wellness Specials, visit http://www.bbonline.com/wellness.html.
And this Mother's Day, whether you're looking to give the gift of a getaway from life's daily demands, or a have a memorable mother-daughter reunion, BBOnline.com's member innkeepers know how to say "Thanks, Mom" with luxury and love.
For example, the Gambill Mansion Bed & Breakfast in Blaine, Ky. hosts "A Mother's Day Tea," with three different combinations of special amenities, including massage, flowers and more. "Mother's Day specials are available at scores of our member inns throughout the country," says Fought. You can view all the Mother's Day Specials at http://www.bbonline.com/mothersday.html.
BBOnline provides an easy-to-use, searchable directory of 5,000 bed and breakfasts and small inns in North America. Fought adds, "We also feature thousands of special packages, a monthly free nights drawing, innkeeper recipes and B&B for sale listings" on the site," says Fought. For more information, visit www.bbonline.com.
About the Author
Courtesy of ARA Content.