How to Add Modern Appeal to Traditional Décor
What's Old Is New Again
You're strictly mod, but your spouse or partner loves the traditional look. How do you reconcile two very different styles of interior décor into one home? In fact, accomplishing the feat is easier than you think. If you have a can of paint, a bit of skill with home improvement and an active imagination, you can incorporate modern and traditional into a harmonious overall decorating plan.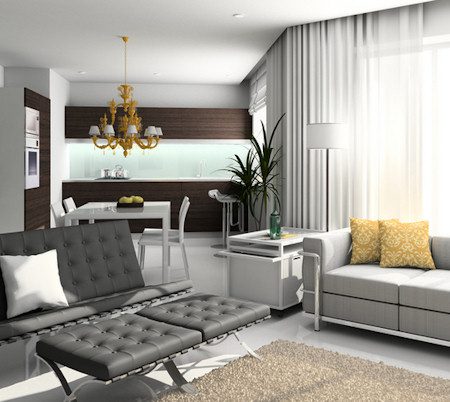 For instance, try adding traditional furnishings as accent pieces to provide a visual focal point for an otherwise thoroughly modern living room. Or break up a potentially fussy matchy-matchy traditional sofa set with a sleek teak or mahogany coffee table. You can also celebrate the flowery pattern of an overstuffed chair by picking up one of the colors in the pattern for your draperies, for throw rugs or for accent pillows for a modern sofa.
Arm yourself with great traditional furnishings, such as comfy 2 seater sofas paired with sleek modern pieces such as a chrome and glass coffee table. Visit the Made website to help you get ideas on this. Add color for your walls, floors, window treatments and accents to tie everything together. By following a few simple strategies and incorporating your own imagination and sense of style, and you can create an atmosphere that looks as if a designer created it.
Modernize Your Sofa
Did Great Aunt Millie give you a sofa that has endured for three generations but just doesn't quite fit with your interior scheme? There is no need to hurt Aunt Millie's feelings by stuffing the sofa into storage. Make it an integral part of your room by replacing the traditional overstuffed upholstery with more modern cushions in turquoise, creamy white or whatever color you choose. Consider removing the fussy arm rests to convert the traditional sofa to a retro-modern focus point for your room.
Add Clean Lines to Traditional Design
If changing the upholstery or sawing off the arms of your Great Aunt Millie's sofa would bring on a fit of the vapors, you can still salvage the piece as part of your overall modern decorating scheme. Simply incorporate the sofa as is into your overall plan. Try matching the traditional sofa with modern soft gray or leather chairs, highly polished wood or linoleum floors and bold striped draperies that pick up one or more of the colors included on the sofa. Paint your living room walls in one of the secondary colors of the sofa and match the wall color with accent pillows tossed onto the sofa.
Bring Your Traditional Coffee Table Up to Date
If you are lucky enough to find a large, traditional coffee table at a flea market or garage sale, don't stress because its fussy traditional design doesn't match your sleek modern furnishings. Simply paint the table to match one or more of the colors in your living room color scheme. As an alternative, paint the table black to mimic a lacquered look or white to add a touch of country cottage charm to your room. If the table is too high, simply saw down the legs to a more contemporary height. But remember the carpenter's rule of measure twice, cut once – to ensure that the table remains level.
About the Author
Amy Grimshaw is a modern decorator. She loves writing about incorporating modern design in fun places on family blogs.