Have a Mini-Farm in Your Own Backyard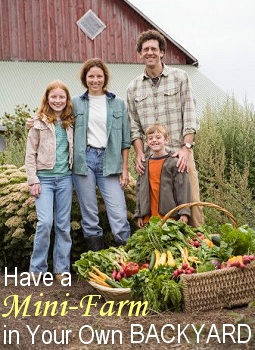 Do you yearn for a few acres and a self sufficient lifestyle with a backyard farm? Well, while you are waiting it out in suburbia, you can still create a productive mini-farm in your own backyard, just by utilizing the space to its best advantage.
My favorite resource for backyard farming:
Fruits, Vegetables & Herbs
The Backyard Farm Plan
First draw up a scale plan of your backyard. Note which areas receive full sun, which partial shade, and which full shade. You may have to change a few things to get the best use from the space. For example, if there is a shed in an area that would be ideal for an orchard, move the shed to an area less inviting to plants.
Where to Grow What
Study your plan carefully and look for the best sites for the various elements of your mini-farm. You don't have to have everything, but with careful planning, you can have an orchard, a thriving vegetable garden, an herb patch, a beehive, a chicken coop and a goat for milk. You will have to check local government regulations and the tolerance of your neighbors on the last two.
Chalk it Out
To start your backyard farm design, mark out the main areas with spray paint, and attend to any tidying up that needs to be done – removing old plants and weeds, digging over the soil and adding soil improvers where necessary.
Locate your orchard in a sunny part of the garden. Fruit trees love the sun and produce their sweetest fruit under its warmth. You orchard won't have to take up a lot of room if you use the new dwarf trees that are available. Some fruit trees require two trees for germination. Discuss this with your nurseryman, and choose trees best suited to your own area.
To make room for extra trees, you can espalier them against a wall or fence. This simply means planting the tree close to the fence and spreading the growing branches by fastening them against it. Espalier is an old technique that still works very well where backyard space is at a premium. A must read would be our article on Step by Step Guide to Planting and Caring for Fruit Trees.
Vines
Fences, trellis and other supports can also be called into good use. If you have the climate for it, plant grape vines in these areas. If it's too cool, or you don't want grape vines, plant other productive vines such as runner beans, peas and tiny tomatoes.
Herb Hedges
Where you want hedging, use bushy lavender and rosemary. You will have a fragrant garden feature and a regular supply for kitchen and home of these very useful herbs.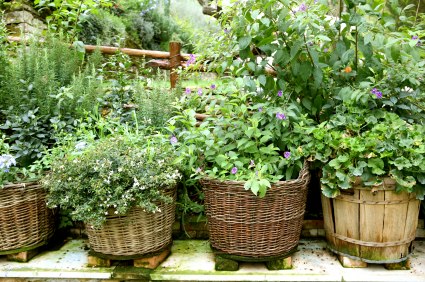 More herbs can be grown in the spokes of an old wagon wheel filled with soil, or in any small patch that receives at least partial sun. If there is simply no space to spare, grow your herbs in pots on a sunny window sill or lined up at the back of the house.
Vegetable Garden
A backyard farm will need at least two separate vegetable plots, so you can rotate them. Plant leaf vegetables in one plot and root vegetables in the other and change them over after harvest. Putting your vegetable plots in raised beds will make planting and harvesting a lot easier, and improve drainage in heavy soil areas. If you fancy, you could create Themed Vegetable Gardens.
Next Page > Honey, Eggs & Milk
References:
Backyard Farming – Community – Google+
How To Turn Your Backyard into a Four-Season Farm – Modern …